Custom Glass
Choose a shape below to customize to your exact specifications.
Rectangle
Select
Square
Select
Round
Select
Oval
Select
About Our Custom Glass
Our custom glass is made to your specifications, right at the time of your order. We source only the highest-quality glass for our custom glass products, and fabricate it right here in our own factory. This means we can be sure of the quality of each custom-cut glass product we make.
Here are a few ways you can customize your glass, exactly how you need it:
Glass Thickness - Get custom glass products cut from sheets in these thicknesses: 3/16", 1/4", 3/8" and 1/2".
Glass Types - Choose from clear glass, ultra-clear low-iron

HD

glass, Opaque-Clear glass, PolarGlass™ textured glass, gray glass, or bronze glass.
Glass Strength - Choose tempered glass for most applications; standard annealed glass is available as well.
Edge Types - Select seamed edges, flat polish edges, pencil polish edges, or classic bevelled edges.
Corner Finishes - Eased, radius, or clipped corners are available.
Center Hole (optional) - If you are using your custom glass for a patio table or other use where a center hole is required.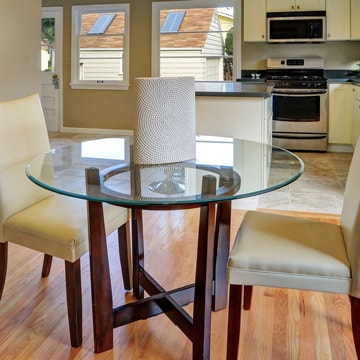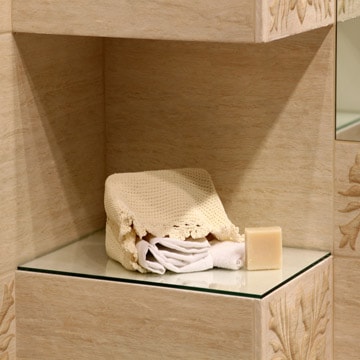 Where to Use Custom Glass
Our customers use custom glass for a variety of purposes, such as interior design, for DIY projects, and for construction. Some places you can use custom glass:
Patio table tops
Antique furniture protectors
Cabinet glass
Replacement glass for accidents
Glass shelves
DIY, crafts, and design projects
Ordering Custom Glass Online
Custom Glass Fabrication - your custom glass product is made after you place the order, right in our own plant. You can rest assured that we manage the quality of your glass product ourselves, for your satisfaction.
Custom Glass Packaging - we've figured out a thing or two about getting your glass to you in one piece. Just ask our customers! They'll tell you the packaging is perfect to keep glass safe on its journey to you.
Custom Glass Delivery - your custom glass product will arrive at your doorstep within 5-7 business days in most cases.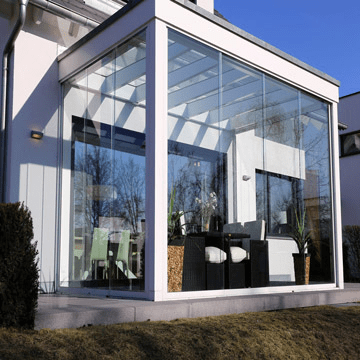 Safety Replacement Glass and Glass Substitutes
Sometimes you might want to replace your broken glass with a specialty glass. Here are some additional types of glass and glass alternatives you can order from us:
Plexiglass Sheets - Lightweight and shatter-resistant, acrylic can be custom-cut and used as a safe glass substitute in home improvement or DIY projects.
Polycarbonate Glass - Similar to acrylic, polycarbonate is a lightweight and break-resistant thermoplastic.
Laminated Glass (Safety Glass) - Laminated glass is two pieces of annealed glass with a piece of vinyl between them. Typically used as a safety glass.
Tools
Use our Glass Weight Calculator to find out how much your replacement glass will weigh, or our Glass Weight Load Calculator to find out how much your replacement glass can support.