Custom Low-Iron Glass
Choose a shape below to start the customization process.
Rectangle
Select
Square
Select
Round
Select
Oval
Select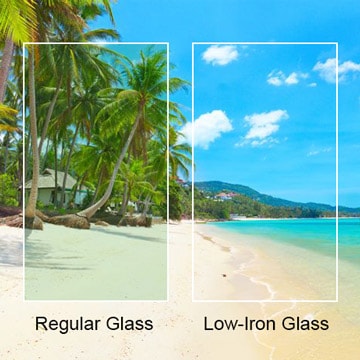 About Our

HD

glass Low-Iron Glass
Our HDglass low-iron glass is the clearest glass on the market today. Low-iron glass is produced through a special process in which the iron particles are removed from the glass. The iron particles are what give regular glass a greenish tint. Removing these particles results in an ultra-clear glass for a premium upgrade to standard glass.
The nearly invisible nature of low-iron glass results in these characteristics:
Reduced greenish tint
Increased light transmission
Nearly colorless appearance*
Exceptional clarity
Where to Use Low-Iron Glass
Our proprietary HDglass low-iron glass can be used anywhere you would choose standard glass, such as tabletops, table covers and shelves. In addition, you might choose low-iron glass in the following instances:
Skylights
Wall partitions
Windows
Shelves
Picture Frames
Art Exhibits
Museums
*All glass has somewhat of a greenish tint -- even low-iron glass. All the iron particles can never be completely removed. However, low-iron glass is the clearest glass you can buy, and will have far less greenish tint than standard glass.