DIY Tip: Glass Shelf Kits
---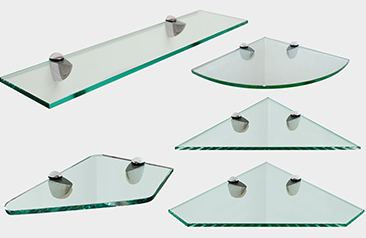 Glass shelf kits are a quick and easy solution for a wide variety of problems. Is your space too small for a classic bookcase? Are your knickknacks gathering dust in a long-forgotten corner? Tired of a dark and gloomy storage space? A glass shelf kit can address and alleviate these situations in a snap!
Here are a few ways to use a glass shelf kit:
Floor space is often at a premium, so put your walls to good use! Create a place to stack books or pictures, or showcase trophies without trying to squeeze in another piece of furniture.
Bring brightness to an otherwise dark cabinet; clear glass attracts and holds light. The subtle glow illuminates precious keepsakes and collectibles, especially glass and crystal items.
No stress integration into any decorating scheme! A transparent shelving option blends easily into any decor, and will not detract from the various decorative items placed on it.

The glass shelf kits offered by Dulles Glass & Mirror come in a variety of shapes and are ready to install. The glass is tempered and clear and is finished with flat polish edges. Each "kit" includes the glass shelf, two elegant brackets with a chrome finish, and screws with wall anchors. Please note that each shelf is packaged individually; so for instance, if you wish to create a "floating" bookshelf, you will want to order as many kits as you want shelves
---