Custom Glass DIY Projects
---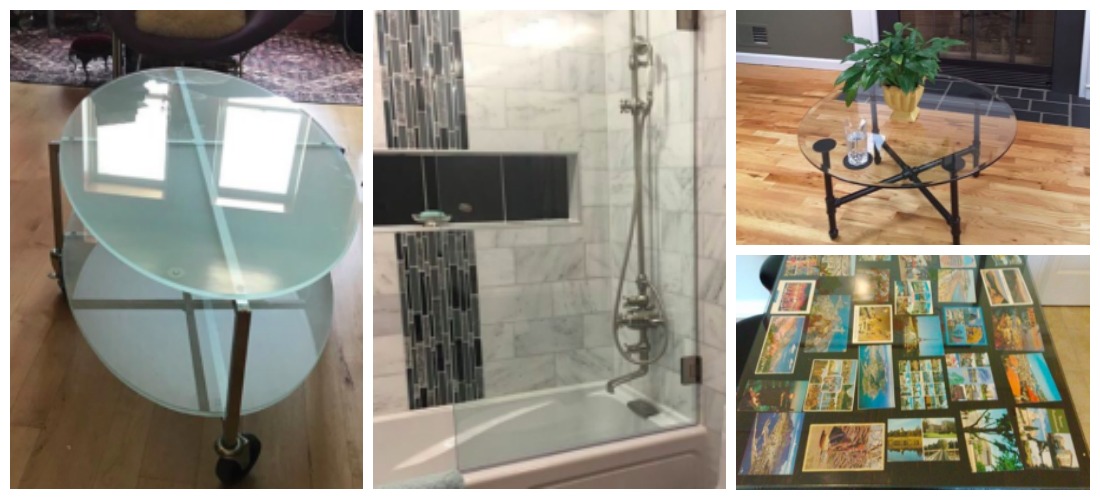 ---
Custom Glass Table Cover For Displaying Collectibles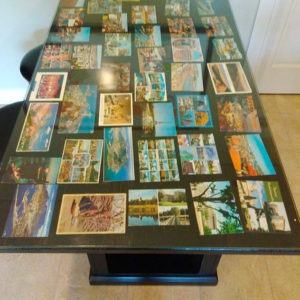 We love to showcase our customers' DIY projects. From vintage revival to furniture rehab, our customers are a creative bunch, especially when it comes to custom glass. Here are some of our latest favorite DIY items and home remodeling projects using our custom cut glass products.

This customer transformed their coffee table into a memorabilia display with a custom cut glass table top that fits perfectly over their coffee table. Not only are they showcasing their collectibles, they are protecting their coffee table with a protective glass cover. Here's what they had to say: "Great glass, I ordered the standard thickness, great for placing on top of another table. Used to display items under the glass." While their keepsakes include vintage postcards, you can personalize your own coffee table or desk with vintage magazine covers, postage stamps or even baseball cards for the sports aficionado. Ordering a custom cut glass table top is an easy process and within several business days, you will receive your carefully packaged glass table top.
Custom Glass DIY Projects | Industrial Glass Coffee Table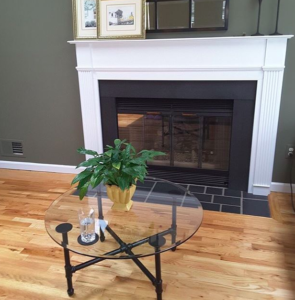 This is what our customer had to say about their glass product:"Very pleased with the product and the quickness of the delivery." Did we mention that we deliver nationwide?

Our timely delivery helped this innovative customer create an industrial table out of pipes. They crowned the table with a custom size round glass table top.

The table is reminiscent of steampunk interior design with the galvanized pipes. You can create your own piped table with custom glass table tops in rectangle, square, oval or round. Add more customizations with glass tint in bronze, gray or frosted glass.
Custom Replacement Glass DIY Project | Wheeled Coffee Table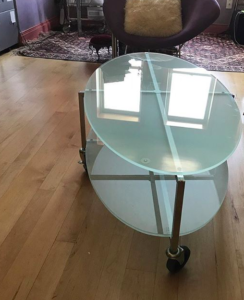 After our customer's glass coffee table shattered, she needed to buy a specific type of replacement glass table top that matched the remaining glass table top. While some people would throw away a perfectly good table, she found a replacement glass match at Dulles Glass & Mirror. Keep us in mind if you break your coffee table, mirror or some other household furniture that is made of glass. Once replaced, nobody will notice the difference.
Half Glass Bathtub Wall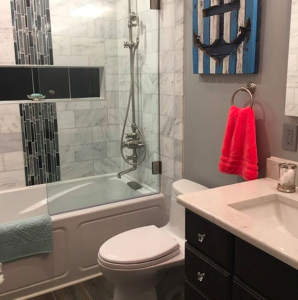 Believe it or not, this half wall bath screen is easy to install. In fact, it only takes about one and a half hours. Our customer decided to swap his shower curtain for a shower screen and we have to say that it looks stunning. Check out the tile work and vintage shower faucet- they weren't meant to hide behind a shower curtain. When installing, we suggest you get another person to help.
Visit Dulles Glass & Mirror For DIY Projects Requiring Custom Glass

When searching for glass panels for home remodeling or replacement glass to fix broken furniture, you will be sure to find exactly what you are looking for -- especially since we've got so many custom options!.
---