Custom Wall Mirrors
Choose a shape below to start the customization process.
Rectangle
Select
Square
Select
Round
Select
Oval
Select
---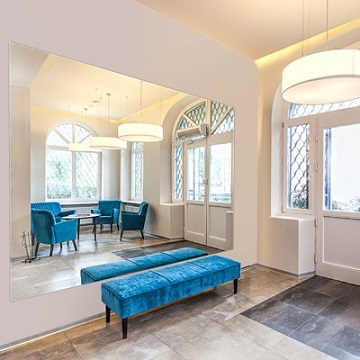 About Our Wall Mirrors
Easily order custom wall mirrors made exactly to your specifications.
Here are some fast facts about our custom mirrors:
We use only the highest-quality mirror sheets to fabricate your custom mirror.
The maximum size in one sheet for shipping is 98" x 80".
Our mirrors are 1/4" thick mirror; this is the most commonly used thickness in the market.
Your custom order will arrive at your doorstep intact, within 5-7 business days.
Wall Mirror Ideas
Wall mirrors can be used in a variety of ways, as proven by our creative customers. Here are some ideas for how to use wall mirrors:
Make a grand statement in a large or small foyer or entryway with a custom wall mirror.
Lighten up a smaller room with a large scale custom wall mirror -- or two!
Replace your bathroom vanity mirror with two smaller custom oval wall mirrors.
Arrange multiple mirrors together for a creative display.
Brighten up a poorly-lit hallway with wall mirrors.
Edge Types for Wall Mirrors
We recommend several edge types for your custom mirror. You'll choose these options during the customization step of ordering your mirror.
Flat Polish Edge: In this application the edges of the mirror have been polished to a smooth shiny finish. Choose a flat polish when the edges of your mirror are visible and you prefer a minimalistic look.
Beveled Polish Edge: In this application the edges of the mirror are cut and polished in an angle with a specific bevel width to produce a certain "look". This process leaves the mirror thinner around the edges and thicker in the center. This is normally used in places where the mirror is a focal point in the room. The bevel width around the mirror can range in size from 1/4" to 1 3/4".
Seamed Edge: In this application, after the mirror is cut the edges are sanded to dull the sharp edges. This is to make the mirror safe to handle. Choose a seamed edge if the mirror is to be framed and in applications where the edges are not visible.
Safety Backing for Your Wall Mirror
Safety backing is a custom option you can choose when ordering your wall mirror. A safety backing provides an extra layer of protection by holding the pieces of a mirror together in the case of breakage.
Wall Mirror Installation
You have several choices for installing your custom mirror. In general, you will need to be sure to install your mirror on a sturdy part of your wall (on studs if you can). Typically, we recommend that our customers use mirror mastic and either decorative clips or j-bars to install their mirror, for extra support.
The maximum size mirror you can order is 98"x80". Use caution, though, when ordering larger mirrors. We recommend that you divide a larger mirror into two or three mirror panels for easier and more flexible installation.
Provides tight and permanent bond.
Perfect for DIY projects.
Can be used in high humidity areas (30° up to 100°F).
Environmentally friendly & low emitting material.
Install on corners or sides of lighter weight mirrors.
Installation screws and anchors are included.
Come in three finishes: chrome, brass, and brushed nickel.
Used to support the top or bottom of a heavier mirror.
Available in three finishes: chrome, brushed nickel and brass