Custom Glass Patio Table Tops
Choose a glass table top below to customize to your exact specifications.
Rectangle
Select
Square
Select
Round
Select
Oval
Select
Shop From Our Pre-Made Collection
If you don't need a customized table top, choose from a variety of pre-made glass table tops that are ready to ship right from our warehouse!
If you don't need a customized table top, choose from a variety of pre-made glass table tops that are ready to ship right from our warehouse!
---
How to Replace Your Glass Patio Table Top
This video explains the different types of patio tables and how to measure for your replacement table top for each kind. In addition, the video will also explain which glass thickness or edge types you should choose for each kind of table.
You can also read below for detailed tips and pointers for each type of patio table top. There are different instructions for each type of patio table top, so make sure you review the section for the type that you have. Get your glass, your way -- today!
Types of Glass Patio Table Tops
Patio tables featuring glass tops are a classic staple of outdoor furniture. Despite our best efforts, sometimes you need new glass for your patio tables. Accidents happen! Or, maybe you're making your own DIY patio tables and need the final touch -- a custom glass top. We've got everything you need for your patio table top replacements:
Custom-cut glass made exactly to your specs.
Hand-fabricated in our US-based facility.
Always low shipping costs.
Guaranteed intact delivery right to your front door!
There are three main types of glass patio table tops: Glass that sits on a pedestal, tables with glass covers, and tables where the glass sits in a metal frame. We'll break it down for you below.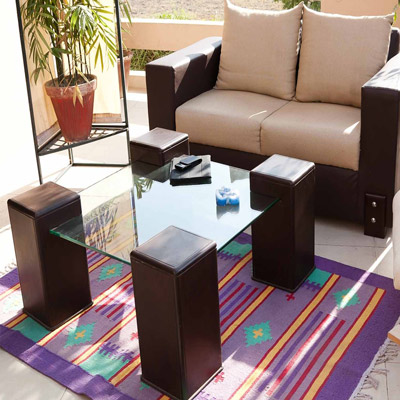 Tables With Glass Sitting On Top of a Pedestal
If you need replacement glass tops for patio tables that have a pedestal table like the one shown here, where the glass sits on top of it without fitting into metal edges, you're in luck. This is the easiest type of glass patio table top to order. Simply choose the shape, enter your measurements, and choose your custom options. Here are a few options to consider:
Thickness: For tables on a pedestal, you can choose 3/8" or 1/2" glass. Thicker glass will provide more support.
Glass Type: Choose clear glass, ultra-clear low-iron

HD

glass, Opaque-Clear glass, PolarGlass™ textured glass, gray glass, or bronze glass.
Glass Strength: Choose tempered glass for maximum safety.
Edges: For an outdoor patio table top that sits on a pedestal, choose flat or beveled edges (pencil polish edges are a good choice for round patio table tops).
Umbrella Holes: You can get a hole drilled in the center of any shape glass patio table top to fit an umbrella. You'll do this when you are customizing your options.
Patio Glass Table Covers
Some outdoor tables just need a glass cover to sit on top of the table and protect it from scratches, stains, and the weather. Covering an outdoor table top has several benefits:
Glass creates a smooth, easy to clean surface for textured tables like wicker or stone.
You can still see the beauty of the table underneath - especially great if you've made it yourself or the table is vintage.
Glass is sturdy and will protect your table from damage from the weather, glass rings, or other stains.
Here are some options to consider when getting a glass patio table top cover:
Thickness: Choose 1/4" or 3/8" to cover your surface - either should be suitable for most table covers.
Glass Strength: Choose tempered glass for outdoor usage...it doesn't shatter into dangerous shards when broken.
Glass Type: For a unique look, choose a bronze or gray glass for a patio table or DIY project. Opaque-Clear or PolarGlass™ textured glass are also popular choices. Or choose standard clear or

HD

glass.
Edges: Choose a flat polished or beveled edge for most square or rectangle table covers; or for round choose pencil or beveled edges.
Patio Table Tops that Fit in a Metal Frame
These kinds of tables can be tricky. If you need patio table top replacements for inside a metal frame, the frame cannot be bent in any way, or it will be very hard to measure. Straighten the frame before you measure it. And the glass must be cut to fit inside the frame exactly. We will fabricate the glass exactly to the dimensions you provide with a +/- 1/8" cutting tolerance. Here are some pointers for this kind of glass table top:
Thickness: 1/4", 3/8", or 1/2" depending on the table.
Glass Type: For most tables, tempered clear glass will be fine. You may also choose a frosted (Opaque-Clear) glass or PolarGlass™ textured glass to suit your decor.
Edges: Seamed or flat polished edges will both work.
Umbrella Holes: Look for the option to choose an umbrella hole where the glass type, thickness, and other options are shown.
DIY Outdoor Patio Tables
The beauty of a pedestal table that you've created yourself should be showcased with beautiful, clear glass cut exactly to your spec. It's easier than ever to order glass for patio tables online. Our glass patio table tops are perfect for DIYers who want to create tables out of -- well, anything! We've had customers create outdoor tables from bird baths, old wooden pallets, and vintage oak barrels. Get those creative juices flowing and create something for your outdoor space!