Customize Your
Replacement Glass
Choose a shape below to start the customization process.
Rectangle
Select
Square
Select
Round
Select
Oval
Select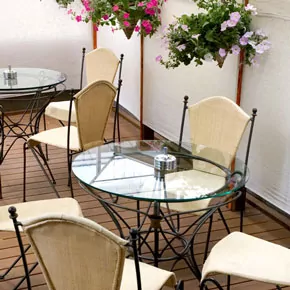 About Our Custom Replacement Glass
If you need to replace broken glass, you're in the right place! We specialize in sourcing the highest-quality glass available, and fabricating your replacement glass exactly to your specifications. This is your one-stop source for replacement glass -- from broken glass table tops to shattered shelves and everything in-between.
Here's a few things you need to know about our replacement glass products:
You can fully customize your replacement glass to suit any need: glass thickness, type of glass (including gray, bronze, and Opaque-Clear), tempering, edge types, and corners.
Ordering replacement glass online is fast and easy! We ship your replacement glass to you, in most cases, in 5-7 business days.
Don't forget to spend some time learning about glass thickness before placing your replacement glass order...it will help you decide what kind of glass you need.
Where to Use Replacement Glass
You're probably here because you need to replace the broken glass in your life. Here are the kinds of things you can fix using our replacement glass:
Glass table tops
Patio tables
Cabinet glass
Single window panes (non-insulated)
Crafts and DIY projects
Shelves
Tempered Glass vs. Annealed Glass?
One choice you'll make during customization is whether you need tempered or standard annealed glass. The answer depends on what you're using your replacement glass for. If you're using it as a cover for a piece of furniture, such as an antique, we recommend annealed glass. For most other replacement glass uses, you'll probably want to choose tempered glass -- glass that has been heat-treated for extra durability. Tempered glass does not break into large shards when struck; instead breaking into tiny pieces. Choose the tempered option for your replacement glass where safety is important, such as around children or pets, for fireplace replacement glass or for glass shelves.
Ordering Glass for Shelves
When you order glass for shelves, there are certain things you'll want to pay attention to, including brackets and what kind of weight your shelves can hold. Learn more about and order glass shelves here.
Safety Replacement Glass and Glass Substitutes
Sometimes you might want to replace your broken glass with a specialty glass. Here are some additional types of glass and glass alternatives you can order from us:
Acrylic Sheets - Lightweight and shatter-resistant, acrylic can be custom-cut and used as a safe glass substitute in home improvement or DIY projects.
Polycarbonate - Similar to acrylic, polycarbonate is a lightweight and break-resistant thermoplastic.
Laminated Glass (Safety Glass) - Laminated glass is two pieces of annealed glass with a piece of vinyl between them. Typically used as a safety glass.
Replacement Glass FAQs
Visit Glass Thickness for more information on glass thicknesses.
Available Glass Type Options