Custom Mirrors
Choose a shape below to start the customization process.
Rectangle
Select
Square
Select
Round
Select
Oval
Select
Customize Your Own Home Gym Mirror
Creating the perfect home, garage, or basement gym begins with the following steps:
First, figure out how many rectangle gym mirrors you'll need. They should have the length of 60" or 72" with flat polished edges.
Then, figure out the layout of your mirrors. We make specific recommendations for where to mount gym mirrors on your wall.
Add a set of chrome round mirror clips - A set of 4 clips per mirror are needed.
Add a J-bar, and mounting screws. J-bars come in two lengths: 60" long and 72" long; depending on the width of your mirror.
Make sure to add safety backing for shatter resistance.
Add glue and our famous glass cleaner for a streak free experience.
Finally, use our Gym Mirror Installation Guide. They're easy to install for a great weekend DIY project!
---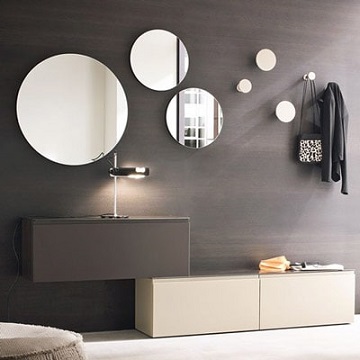 About Our Custom Mirrors
Sometimes, you want a mirror that is exactly what you want: the shape, size, edges, and even color. The beauty of a custom glass mirror from Dulles Glass & Mirror is that you can customize to your exact specifications. When you order a custom mirror, we fabricate it right in our own facility. That means you get exactly what you want -- quickly!
Here are some fast facts about our custom mirrors:
We use only the highest-quality mirror sheets to fabricate your custom mirror.
The maximum size in one sheet for shipping is 98" x 80".
Our mirrors are 1/4" thick mirror; this is the most commonly used thickness in the market.
Your custom order will arrive at your doorstep intact, within 5-7 business days.
Custom Mirror Ideas
Custom mirrors are a beautiful asset to any wall, of course. But there are many other uses for custom mirrors that our customers have shared with us over time.
Above bathroom vanities - two ovals can replace a long rectangle mirror or vice versa.
DIY furniture projects, like custom woodwork cabinets, hutches, and other furniture projects
Weddings - our customers have ordered round and oval mirrors for their reception table tops, gifts and more
Craft projects, like the ones featured on our Reflections blog.
Home decor, especially for tiny home and small spaces, where mirrors help a room look bigger and brighter.
Table covers - many of our customers have made table tops out of mirrors for their end tables, night stands and more.
Edge Types for Custom Mirrors
We recommend several edge types for your custom mirror. You'll choose these options during the customization step of ordering your mirror.
Flat Polish Edge: In this application the edges of the mirror have been polished to a smooth shiny finish. Choose a flat polish when the edges of your mirror are visible and you prefer a minimalistic look.
Beveled Polish Edge: In this edge type the edges of the mirror are cut and polished in an angle with a specific bevel width to produce a certain "look". This process leaves the mirror thinner around the edges and thicker in the center. This is normally used in places where the mirror is a focal point in the room. The bevel width around the mirror can range in size from 1/4" to 1 3/4". Please choose your bevel width during the customization step of your order.
Seamed Edge: In this application, after the mirror is cut the edges are sanded to dull the sharp edges. This is to make the mirror safe to handle. Choose a seamed edge if the mirror is to be framed and in applications where the edges are not visible.
Safety Backing for Your Custom Mirror
Safety backing is a custom option you can choose when ordering your custom mirror. Here are a few facts about safety backing that will help you decide if you need it.
If your mirror breaks, glass fragments are held in place to reduce the risk of injury from shattered glass. This also makes cleanup easier.
Strengthens the mirror overall so that if an object strikes the mirror, it is more durable against breakage.
Safety backing prevents moisture entrapment to keep mirror from delamination.
Custom Mirror Installation
You have several choices for installing your custom mirror. In general, you will need to be sure to install your mirror on a sturdy part of your wall (on studs if you can). Typically, we recommend that our customers use mirror mastic and either decorative clips or j-bars to install their mirror, for extra support.
Provides tight and permanent bond.
Perfect for DIY projects.
Can be used in high humidity areas (30° up to 100°F).
Environmentally friendly & low emitting material.
Install on corners or sides of lighter weight mirrors.
Installation screws and anchors are included.
Come in three finishes: chrome, brass, and brushed nickel.
Used to support the top or bottom of a heavier mirror.
Available in three finishes: chrome, brushed nickel and brass
Help Videos
How to Install Round Mirrors