Custom Beveled Mirrors
Choose a shape below to start the customization process.
Rectangle
Select
Square
Select
Round
Select
Oval
Select
About Our Beveled Mirrors
A beveled mirror refers to a mirror that has its edges cut and polished to a specific angle and size in order to produce an elegant, framed look. This process leaves the glass thinner around the edges of the mirror, while the large middle portion remains the standard 1/4" thickness.
The bevel around a mirror can range in size from 1/4" to 1-3/4". You can also have the edges of the mirror polished to create a sleek, "finished" look.
Here are some fast facts about our custom mirrors:
We use only the highest-quality mirror sheets to fabricate your custom mirror.
The maximum size in one sheet for shipping is 98" x 80".
Our mirrors are 1/4" thick mirror; this is the most commonly used thickness in the market.
Your custom order will arrive at your doorstep intact, within 5-7 business days.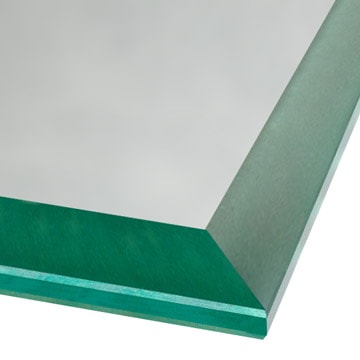 Beveled Mirror Ideas
Beveled mirrors make a bold, elegant statement. You'll definitely want to choose a beveled edge if your mirror is going to be the central focus of your room. You can use them anywhere in your home, but here are some ideas from our customers:
Bathroom vanities - two ovals can replace a long rectangle mirror that or vice versa.
DIY furniture projects, like custom woodwork cabinets, hutches, and other furniture projects
Weddings - our customers have ordered round and oval mirrors for their reception table tops, gifts and more
Table covers - many of our customers have made table tops out of mirrors for their end tables, night stands and more.
Additional Beveled Mirror Options
You'll be able to select from these additional customization options on the customization screen where you order your mirror.
Safety Backing - Choose safety backing to strengthen your mirror. Glass fragments are held in place with a safety backing, reducing the risk of injury.
Installation Accessories - During the customization process, you can select mirror mastic and either decorative clips or j-bars/l-bars to install your mirror, for extra support.
Related Videos
Installing With Mirror Clips