Cyber Week Sale - 10% off and free shipping. This week only! Use Code: CYBERWEEK16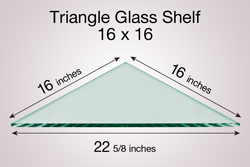 Triangle Glass Shelf 16 x 16
Read reviews (5)
Availability: In stock, leaves warehouse in 1-3 business day.
$46.74 Regular Price
($1.79) Instant Saving
Your Final Price
$44.95
Product Description
This 16 x 16 inch Triangle Glass Shelf is our triangular shaped corner shelving option. It's one of the easiest and most convenient shelving choices for the home. It is our LARGEST sized Triangle Glass Shelf available and is perfect if you want to show off large treasures. The glass is clear glass, tempered for safety, with a flat polish edge for a beautiful shine. The glass is perfect for showing off those valuable items without impeding the light. The effortless sophistication of these triangle shelves makes them a perfect accompaniment to any corner space, are easily installed, and stackable.
Specifications
Condition

Brand new item in box

Shape

Triangle

Glass Type

Clear Glass

Edge Work

Flat Polish

Glass Thickness

3/8 (10mm)

Strength

Tempered
Triangle Glass Shelf 16 x 16 Reviews
Review Snapshot:
Average customer ratings:
based on 5 customer reviews.
fantastic!
Written By Sharon Rambo
May 07, 2016
St.Paul MN
Great Job. The glass fit perfect on my table.THANKYOU!,!!!!,!!,
"Reflections" on this Product
Written By Dr Dan Lobash
March 13, 2016
Orlando FL
Nicely done. Best price found on-line. Well packaged. No flaws I thought the website was very easy to use, very well done. However, I think you need to immediately send the order confirmation with expected delivery and tracking number. Also, I would appreciate two e-mail address possibilities as my partner also wants to be current and I won't have to do a forward. I am now preparing a wall mirror order A job well done. Thanks
Wrong item received
Written By Reviewer
March 11, 2016
Ft.Myers FL
The item I ordered was different than what I received so I gave a bad review which I would like to retract. Since then the company has gone overboard to make it right. I would deffently use this company again.
Wrong glass
Written By Barbara Astorg
March 05, 2016
Ft.Myers FL
The shelf I ordered was supposed to be triangle 16 by 16 straight edge. Instead I received the 16 x16 with curved edge,. I will be returning in hopes that I can get the correct pieces.
Great Shelves - Great Price - Great Service
Written By GJ
March 10, 2014
Gresham OR
Very nice shelves at a very good price. And shipping was super fast. Couldn't be more pleased.