Holiday Online Sales - 10% off and free shipping. This week only! Use Code: GIFTS16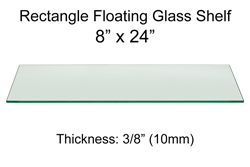 Rectangle Floating Glass Shelf 8 x 24
Read reviews (5)
Availability: In stock, leaves warehouse in 1-3 business day.
$51.78 Regular Price
($6.83) Instant Saving
Your Final Price
$44.95
Product Description
This 8 inch x 24 inch rectangular shelf is an easy and convenient shelving option for the home. The tempered, clear glass shelves are beautifully fabricated with highly polished flat edges. The effortless sophistication of these shelves makes them a perfect accompaniment to any space.
Glass shelf hardware brackets are not included. To see our selection of beautiful two-wall brackets, go here.
Specifications
Condition

Brand new item in box

Shape

Rectangle

Available Sizes

6x18, 6x21, 6x24, 6x27, 6x30, 6x36, 8x18, 8x24, 8x30, 8x36

Glass Type

Clear Glass

Edge Work

Flat Polish

Glass Thickness

3/8 (10mm)

Strength

Tempered
Rectangle Floating Glass Shelf 8 x 24 Reviews
Review Snapshot:
Average customer ratings:
based on 5 customer reviews.
Glass Shelves
Written By Shawna
May 26, 2016
Fresno CA
The glass shelves came better than expected, thank you so much! They are perfect. Very satisfied with the product and delivery.
Floating Glass Shelves and Brackets
Written By Reviewer
November 22, 2014
VA
Ordered the 8 x 24" glass shelves with the brackets recommended for the shelf size. Bracket size was 1 7/8" wide x 1 9/16 long. Received the shelves within 2 days of ordering. Installation was easy, but I believe that with an 8" wide shelf longer width brackets are needed for shelf stability. The shelves look beautiful!
Just what I needed!
Written By Reviewer
November 21, 2012
Oak Lawn IL
Perfect, quick and great quality. Thanks!
Glass Shelves
Written By Lou
October 25, 2012
Suffield CT
Glass Shelves are EXCELLANT...Great Service and Pricing
Nice shelves
Written By Ray
August 24, 2011
Harrisburg PA
I ordered the 8X24 glass shelves and they are very nice indeed! I ordered on a Saturday and my purchase was to my door on Wednesday in perfect condition. I contacted customer service prior to my sale and they were very helpful as well. The only reason I didn't rate the product higher is that the hardware that supports the shelves seems pretty flimsy (the shelves are really weighty) and I was a bit concerned that they would support the weight. The other thing is that you need more hardware than they send to anchor the shelves. The shelves only come with the brackets. Last issue was there were no instructions for hanging the brackets at all. I think I did OK with it but I am fairly handy with tools and someone else may not be. As far as the glass goes...it is beautiful.