Cyber Week Sale - 10% off and free shipping. This week only! Use Code: CYBERWEEK16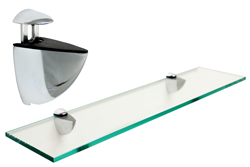 Rectangle Floating Glass Shelf 6 x 30 w/Chrome Brackets
Read reviews (7)
Availability: In stock, leaves warehouse in 1-3 business day.
$72.38 Regular Price
($27.43) Instant Saving
Your Final Price
$44.95
Product Description
This 6 inch x 30 inch rectangular shelf kit is an easy and convenient shelving option for the home. The tempered, clear glass shelves are beautifully fabricated with highly polished flat edges. Additionally, each master carton contains two stylish chrome finished brackets and all necessary hardware. The effortless sophistication of these shelves makes them a perfect accompaniment to any space.
Specifications
Condition

Brand new item in box

Shape

Rectangle

Available Sizes

6x18, 6x21, 6x24, 6x27, 6x30, 6x36, 8x18, 8x24, 8x30, 8x36

Glass Type

Clear Glass

Edge Work

Flat Polish

Glass Thickness

3/8 (10mm)

Strength

Tempered
Additional Information
The tempered glass is highly polished on all four edges for an elegant appearance.
Rectangle Floating Glass Shelf 6 x 30 w/Chrome Brackets Reviews
Review Snapshot:
Average customer ratings:
based on 7 customer reviews.
Great product and terrific customer service!
Written By Debra
March 17, 2016
Media PA
This shelf is far more substantial than I expected. Although I read the description and measurements I never anticipated the superior quality. My family was in the glass business for many years so I know what a well polished edge should look like and this even surprised my husband--especially considering the price! We were shipped the wrong bracket finish and the rep who answered the phone actually sounded more disappointed than I felt when he heard about the mix-up. The new bracket was shipped the next business day and they arranged, and paid for, return shipping of the incorrect bracket. I didn't even have to leave my house--they had it picked up at my door! I sincerely could not be more happy with the shelf, the original shipping speed and quality packaging or the customer service and prompt replacement procedure. We will DEFINITELY be ordering from here again!!
Excellent self
Written By Joe
February 18, 2016
Willington CT
Installed a stainless steel back splash behind a new stove. Was going to hang a stainless self but the lights from the hood were on top of it. Bought the floating glass self and couldn't be happier. Easy to install and looks great.
Great purchase.
Written By Reviewer
January 22, 2016
Evansville IN
The shelves were easy to install and are very sturdy. We hung them by the wet bar and they look beautiful.
AWESOME ITEM
Written By C. TANTTE
March 09, 2015
Miramar FL
MY PROJECT LOOK AWESOME WITH THIS GLASS SHELF , ALSO CAME FAST, THANK YOU FOR EVERYTHING
GLASS SHELVES
Written By Zbigniew A.
November 01, 2014
Park Ridge IL
SUPER QUICK TURNOUT, PRODUCT DELIVERED AS PROMISSED- WOULD RECOMMEND!!!
GLASS SHELVES
Written By Zbigniew A.
November 01, 2014
Park Ridge IL
SUPER QUICK TURNOUT, PRODUCT DELIVERED AS PROMISSED- WOULD RECOMMEND!!!
OUTSTANDING
Written By Reviewer
March 19, 2014
New Orleans LA
LOOKS GREAT.