Holiday Online Sales - 10% off and free shipping. This week only! Use Code: GIFTS16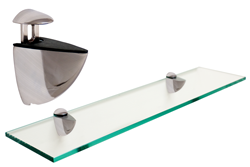 Rectangle Floating Glass Shelf 6 x 21 w/ Brushed Nickel Brackets
Read reviews (4)
Availability: In stock, leaves warehouse in 1-3 business day.
$63.95 Regular Price
($19.00) Instant Saving
Your Final Price
$44.95
Product Description
This 6 inch x 21 inch rectangular shelf kit is an easy and convenient shelving option for the home. The tempered, clear glass shelves are beautifully fabricated with highly polished flat edges. Additionally, each master carton contains two stylish Brushed Nickel finished brackets and all necessary hardware. The effortless sophistication of these shelves makes them a perfect accompaniment to any space.
Specifications
Condition

Brand new item in box

Shape

Rectangle

Available Sizes

6x18, 6x21, 6x24, 6x27, 6x30, 6x36, 8x18, 8x24, 8x30, 8x36

Glass Type

Clear Glass

Edge Work

Flat Polish

Glass Thickness

3/8 (10mm)

Strength

Tempered
Additional Information
The tempered glass is highly polished on all four edges for an elegant appearance.
Rectangle Floating Glass Shelf 6 x 21 w/ Brushed Nickel Brackets Reviews
Review Snapshot:
Average customer ratings:
based on 4 customer reviews.
Just installed
Written By Larry
December 05, 2015
Phoenix AZ
It only took a few moments to install the glass shelf. It came in perfect condition. There was a minor glitch when the glass arrived without the shelf brackets, but I called Dulles and they apologized and I received the brackets the next day. Very good service! Thank You!
cut glass shelves
Written By SZ
October 22, 2014
Great Falls VA
The cut glass shelves arrived perfect. The packaging was very impressive. The glass was cut to specifications and took only about 48 hours from hitting the order button to delivery to my door. A great company, products and service. I will be back to buy more glass.
Glass shelves
Written By Tracey
October 06, 2014
Bradenton FL
I love my glass shelves. They arrived in less than a week from the original order date. The shelves fit perfectly and were packed very well. Thank you. I will use your company again and will recommend you as well.
6x21 floating glass shelf
Written By Reviewer
June 05, 2013
Saint Augustine FL
Arrived promptly; video was helpful for installation; looks great! I used heavier anchors when I put the shelf up. M