Holiday Online Sales - 10% off and free shipping. This week only! Use Code: GIFTS16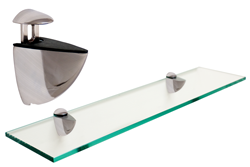 Rectangle Floating Glass Shelf 6 x 18 w/ Brushed Nickel Brackets
Read reviews (8)
Temporarily out of stock.
Product Description
This 6 inch x 18 inch rectangular shelf kit is an easy and convenient shelving option for the home. The tempered, clear glass shelves are beautifully fabricated with highly polished flat edges. Additionally, each master carton contains two stylish Brushed Nickel finished brackets and all necessary hardware. The effortless sophistication of these shelves makes them a perfect accompaniment to any space.
Specifications
Condition

Brand new item in box

Shape

Rectangle

Available Sizes

6x18, 6x21, 6x24, 6x27, 6x30, 6x36, 8x18, 8x24, 8x30, 8x36

Glass Type

Clear Glass

Edge Work

Flat Polish

Glass Thickness

3/8 (10mm)

Strength

Tempered
Rectangle Floating Glass Shelf 6 x 18 w/ Brushed Nickel Brackets Reviews
Review Snapshot:
Average customer ratings:
based on 8 customer reviews.
Quality product
Written By Lee
February 22, 2016
CA AL
Correct size. Good quality fast delivery
Buying Glass online
Written By Reviewer
September 03, 2015
Webster WI
I never thought I would buy glass over the internet. Dulles Glass and Mirror made it easy and the item was delivered in a timely manner. I will be buying more glass in the future from them. Outstanding prices and service.
Great product and Service
Written By Jim
August 22, 2015
Laurence Harbor NJ
Found the glass I wanted from another .com any for double the price plus expensive shipping. Stumbled upon Dulles and ordered next to nothing for shipping and it arrived the next day
You can customize you items!
Written By Reviewer
August 13, 2015
Middlefield MA
Great product! fast service! Great packing! Wonderful people to deal with. Thanks.
Happy with Glass Purchase
Written By Reviewer
March 22, 2013
Round Rock TX
Glass arrived very fast and as ordered. Highly recommend - Thanks.
Pleased with product
Written By Ardis
February 28, 2013
Carlsbad CA
The custom cut glass is now in place on my terrarium and is just what I wanted. I must admit that when the parcel arrived I didn't think there was a chance that it would be in one piece---the box was crunched and beat up -- but when I opened it...thanks to your packing, the glass was intact and fine. Thank you handling my order as hoped for.
FLOATING GLASS
Written By JOHN MEDVETZ
February 22, 2013
Blue Bell PA
MY BEST SUGGESTION WOULD ASK FOR AN INSTRUCTION SHEET. I CAN FIGURE IT OUT ON MY OWN, BUT A SHEET WOULD BE HELPFULL. I LIKE THE PRODUCT AND INTEND TO ORDER MORE FOR ANOTHER JOB AROUND THE HOUSE
First time order
Written By Dave
February 18, 2013
North Hollywood CA
I ordered two basic glass shelves for my china cabinet, they were cut to my exact specifications and were a perfect fit. I received my order in about 7 days from the day I ordered online. They were shipped with an ample amount of protection to ensure a damage-free product. I would definitely order from Dulles Glass & Mirror again.