Cyber Week Sale - 10% off and free shipping. This week only! Use Code: CYBERWEEK16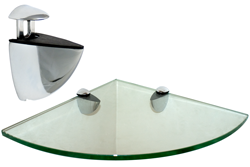 Corner Floating Glass Shelf 12 x 12 w/Chrome Brackets
Read reviews (6)
Availability: In stock, leaves warehouse in 1-3 business day.
$62.30 Regular Price
($17.35) Instant Saving
Your Final Price
$44.95
Product Description
This 12 inch corner glass shelf kit is an easy and convenient shelving option for the home. The tempered, clear glass shelves are beautifully fabricated with highly polished flat edges. Additionally, each master carton contains two stylish chrome finished brackets and all necessary hardware. The effortless sophistication of these shelves makes them a perfect accompaniment to any space.
Free Upgrade While Supplies Last!
Don't miss out! Order your glass shelf kit now, and receive two
upgraded
Chrome Adjustable Glass Shelf Brackets (as shown right).
Specifications
Condition

Brand new item in box

Shape

Rectangle

Available Sizes

6x6, 8x8, 10x10, 12x12, 16x16

Glass Type

Clear Glass

Edge Work

Flat Polish

Glass Thickness

3/8 (10mm)

Strength

Tempered

Finish Options

Chrome, Brushed Nickel
Additional Information
Glass shelf kit include glass shelf, two Brush Nickel/Chrome finished brackets, and mounting screws.
The tempered glass is highly polished on all four edges for an elegant appearance.
Two Brush Nickel/Chrome finish brackets, screws with wall anchors.
Each glass self kit individually boxed within the master carton.
Corner Floating Glass Shelf 12 x 12 w/Chrome Brackets Reviews
Review Snapshot:
Average customer ratings:
based on 6 customer reviews.
Exactly what I ordered
Written By Matt F
January 31, 2016
NY NY
Delivered as ordered wrapped beautifully & arrived in one piece...
Fabulous
Written By Phyllis
December 04, 2012
Las Vegas NV
My glass shelf arrived today in perfect condition and no wonder the way it was packed! Exact as ordered with fast shipping. Great company!
Custom glass shelves
Written By Reviewer
December 02, 2012
Ft. Myers FL
This was a fantastic experience and excellent quality product. Shipped and packed very well for optimum safety. I was very impressed.
Received in very good condition
Written By John
August 23, 2012
Novi MI
Very nice, it looks great in our bath room.
Bath Glass for Howard
Written By Reviewer
July 13, 2012
Levittown PA
The two pieces of glass look beautiful and should look great in our newly remodeled bathroom.
Glass table insert
Written By Reviewer
May 04, 2012
Idaho Falls ID
We needed a glass insert for one we broke in our formal dining room table. The one that came was an exact fit. We're very happy. :-)