Holiday Online Sales - 10% off and free shipping. This week only! Use Code: GIFTS16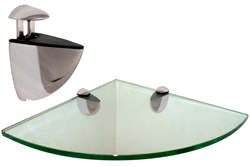 Corner Floating Glass Shelf 10 x 10 w/ Brushed Nickel Brackets
Read reviews (5)
Temporarily out of stock.
Product Description
This 10 inch corner glass shelf kit is an easy and convenient shelving option for the home. The tempered, clear glass shelves are beautifully fabricated with highly polished flat edges. Additionally, each master carton contains two stylish Brushed Nickel finished brackets and all necessary hardware. The effortless sophistication of these shelves makes them a perfect accompaniment to any space.
Free Upgrade While Supplies Last!
Don't miss out! Order your glass shelf kit now, and receive two upgraded Chrome Adjustable Glass Shelf Brackets (as shown above).
Specifications
Condition

Brand new item in box

Shape

Rectangle

Available Sizes

6x6, 8x8, 10x10, 12x12, 16x16

Glass Type

Clear Glass

Edge Work

Flat Polish

Glass Thickness

3/8 (10mm)

Strength

Tempered

Finish Options

Chrome, Brushed Nickel
Additional Information
Glass shelf kit include glass shelf, two Brush Nickel/Chrome finished brackets, and mounting screws.
The tempered glass is highly polished on all four edges for an elegant appearance.
Two Brush Nickel/Chrome finish brackets, screws with wall anchors.
Each glass self kit individually boxed within the master carton.
Corner Floating Glass Shelf 10 x 10 w/ Brushed Nickel Brackets Reviews
Review Snapshot:
Average customer ratings:
based on 5 customer reviews.
Tempered glass Shower Shelf 10 x 10
Written By Sherrill
September 16, 2015
Miami FL
This shelf is beautiful, and is exactly what we wanted. The shelf is perfect.
corner shelving
Written By Reviewer
April 04, 2015
Chicopee MA
Great product and easy to install
10 by 10 shelf E.Z.
Written By Reviewer
June 08, 2013
The Villiages FL
Delevery was fast--installation was EZ. Great product --good service..a little overpriced. Thanks.
I loved the first one so much, I had to have one more!
Written By Sandra King
April 13, 2013
Navasota TX
The title says it all, almost. I didn't mention the rapid delivery, or the very reasonable price. I'll probably be ordering more.
It's simply gorgeous!
Written By Sandra King
April 08, 2013
Navasota TX
Everything about this shelf is perfect. I'm so pleased with the product, and the folks that sold it, I'm giving it my highest recommendation. What's really remarkable is that I didn't know how much it was needed, until I took it out of the box.