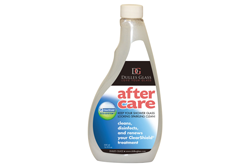 ClearShield AfterCare for Shower Glass
Availability: In stock, leaves warehouse in 1-3 business day.
$45.29 Regular Price
($5.30) Instant Saving
Your Final Price
$39.99
Product Description
Give your ClearShield-protected shower glass the ClearShield AfterCare treatment with this all-in-one specialized cleaner and enjoy the long-term cleaning benefits. Unprotected glass requires twice the frequency of cleanings as compared to glass treated with ClearShield Aftercare. Also disinfects and conditions your ClearShield-protected shower glass and ceramics.
With ClearShield AfterCare, extend the durability of your ClearShield-treated Shower Glass from 5 to 8 years.
Use for shower doors, mirrors, ceramics, both in home, and commercial settings. Comes in 500ml trigger spray bottles.
Specifications
500ml trigger spray bottle.
Additional Information
Recommended use
Shower doors and mirrors, ceramic tiles
Residential and commercial
Float glass