Black Friday Deals Are Here! 15% Off + Free Shipping! Use Code: BF2017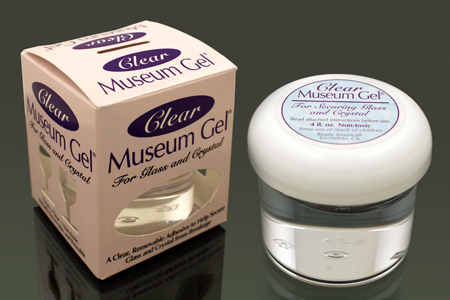 Clear Museum Gel
SKU: RACO3311
Temporarily out of stock.
---
Product Description
CLEAR MUSEUM GEL is the perfect way to secure your collectibles, china, glassware, and crystal to your glass shelves, with an invisible bond. Clear Museum Gel is exactly what it sounds like… used in museums to secure figurines in earthquake prone areas, it is now a product for the home, and it's ideal for glass shelves. Not only is the gel set in 30 minutes, but it's also easily removable, and it's an invisible adhesive, so it isn't an eyesore.
One 4 oz. container can bond up to 10 potted plants with a 12" base or 300 miniature crystal figurines (1-4" height). It's clean, clear, non-toxic, instantly removable and reusable.
Clear Museum Gel has a two-year shelf life and is the ideal way to secure collectibles and valuables in the event of household accidents such as playful pets and active small children. It's added safety, makes dusting and cleaning easier, and is fun to use!
Specifications
Contents : 4 fl oz (110 ml)
Additional Information
Provides enough gel for securing approx. 200-300 crystal figurines.
May We Suggest
---
Reviews and Q&A
636469664376176250