Holiday Online Sales - 10% off and free shipping. This week only! Use Code: GIFTS16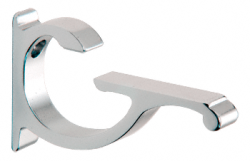 Chrome Designer Aluminum Shelf Brackets
Read reviews (1)
Availability: In stock, leaves warehouse in 1-3 business day.
$44.15 Regular Price
($15.38) Instant Saving
Your Final Price
$28.77
Product Description
These Chrome Designer Aluminum Shelf Brackets may be installed anywhere a classy shelf is desired. The black, chrome, and white powder coated colors will go with any décor, and can be used in any environment including retail display, kitchen, bath, or office. These Designer Brackets will accommodate glass or wood shelves up to 3/8 to 1/2 inches (10 or 12 millimeters) thick. The design of the Bracket provides support on the top edge and underneath, and will hold up to 80 pounds (36 kilograms) per pair. Each pack contains two Brackets, mounting tape, spacer tabs, screws, and installation instructions.
Each package contains two brackets
Specifications
Recommended Protrusion
Glass Thickness Supported
Bracket Thickness
Recommended Spacing
Available Finishes
Specifications
Catalog Number

CC5

Color

Chrome / Black / White

Shipping Weight

8 oz (227g)

Minimum Order

1 Package
Additional Information
Chrome Designer Aluminum Shelf Brackets Reviews
Review Snapshot:
Average customer ratings:
based on 1 customer reviews.
Chrome Brackets
Written By Reviewer
August 02, 2011
The brackets were very easy to install. Great buy!