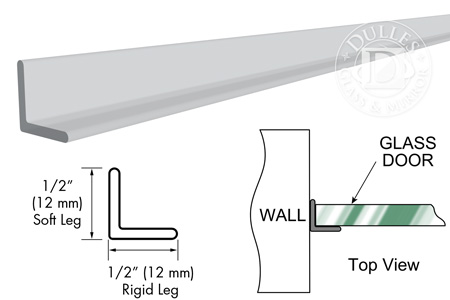 98" Clear Strike Angle Jamb with Clear Double Tape
SKU: SWP12LJ
Temporarily out of stock.
---
Product Description
98" Clear Strike Angle Jamb with Clear Double Tape is a Multi-Purpose Polycarbonate Strike for 1/4" to 1/2" Glass. Recommended for use with Single Shower Door installations.
Can be used for both hinge and strike jambs. Comes with double sided tape for easy adhesion to the wall of a fixed panel glass door. It is commonly used as a jamb for shower installations to achieve a sleek look. Comes in ample amount of 98 Inches.
Keep the water inside your shower, while giving your shower enclosure a clean look. Clear Color. Polycarbonate material. Mfg. by Troy Systems in the USA. Shipped by FedEx. Perfect for do-it-yourselfers.
Specifications
Top-Selling Polycarbonate
Versatile for Multiple Uses
Commonly Used in Glass-to-Glass Applications
98 Inch Stock Length
Additional Information
Manufactured by Troy Systems.
May We Suggest
---
Reviews and Q&A
}