Holiday Online Sales - 10% off and free shipping. This week only! Use Code: GIFTS16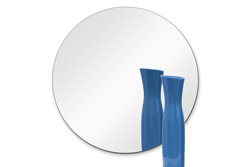 8 Inch Round Mirror: 1/4 Inch Thick, Flat Polish Edge (10 ea. in 1 box)
Read reviews (1)
Availability: In stock, leaves warehouse in 1-3 business day.
$36.38 Regular Price
($3.43) Instant Saving
Your Final Price
$32.95
Product Description
1 Box of 10 Mirrors
These beautiful 8 inch round mirrors are perfect for wedding table centerpieces and arts and crafts projects!
Manufactured by Troy Systems, these glass mirrors provides an incredible degree of clarity and an unsurpassed fabrication quality you have come to expect from the leading mirror fabricator in the industry.
Since there are no frames, these mirrors can match any decor in any room in your house.
8 inch round mirrors features a carefully crafted flat polished edge for a sleek look.
These mirrors are 1/4 inch thick, which is the most popular thickness in home mirrors.
Concerned about shipping? Don't be; unlike other online vendors, we specialize in glass and mirror products and over the years we have created most efficient methods in boxing and handling to minimize breakage during shipping. Furthermore, we guarantee that you will get your mirrors intact.
Specifications
Condition

Brand new item in box

Shape

Round

Available Sizes

6, 8, 10, 12

Mirror Type

Clear Mirror

Edge Work

Flat Polish

Mirror Thickness

1/4 (6mm)
Additional Information
This mirror has its edge carefully cut and flat polished.
8 Inch Round Mirror: 1/4 Inch Thick, Flat Polish Edge (10 ea. in 1 box) Reviews
Review Snapshot:
Average customer ratings:
based on 1 customer reviews.
Excellent Quality
Written By Reviewer
May 07, 2015
Strasburg CO
We haven't used the mirrors yet but we ordered 30 for centerpieces at a wedding so they were all inspected upon arrival to be prepared for the big day. They were very well packaged and all the mirrors arrived in excellent condition. They are also a much better quality than what you would purchase in a craft store and for less money. Very satisfied.