Cyber Week Sale - 10% off and free shipping. This week only! Use Code: CYBERWEEK16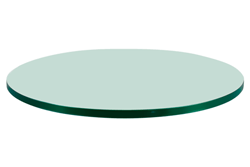 45" Round Glass Table Top, 1/4" Thick, Flat Polish Edge, Tempered Glass
Read reviews (3)
Temporarily out of stock.
45" Round Glass Table Top
This is a beautiful tempered 45" round glass table top -- place on a stand to create a new glass table or use as protective top surface on existing existing table, desk, patio table, or coffee table. The edges of the glass are flat polished to provide a smooth finish.
For added strength of glass, it is tempered. This type of glass is also known as safety glass. Ships via Fedex. Weighs 36.13 lbs.
Specifications
Condition

Brand new item in box

Shape

Round

Available Sizes

24, 30, 34, 36, 42, 48, 54

Glass Type

Clear Glass

Edge Work

Flat Polish

Glass Thickness

1/4, 3/8

Strength

Tempered
Additional Information
Tempered glass is a type of safety glass regularly used in applications in which standard glass could pose a potential danger. Tempered glass is four to five times stronger than standard glass and does not break into sharp large pieces when it breaks. Tempered glass is manufactured through a process of extreme heating and rapid cooling, making it harder than normal glass.
Flat Polish Edge: In this application the edges of the glass have been polished to a smooth shiny finish. Choose a flat polish when the edges of your glass are visible and you prefer a minimalistic look.
1/4",3/8" Glass Thicknesses are normally used to cover an existing surface such as wood, metal, etc.
(Glass table top only)
45" Round Glass Table Top, 1/4" Thick, Flat Polish Edge, Tempered Glass Reviews
Review Snapshot:
Average customer ratings:
based on 3 customer reviews.
Good quality product
Written By Frank
May 17, 2016
Aptos CA
Shipped securely and arrived promptly. Price was very competitive. I recommend this company.
Perfect fit
Written By Reviewer
May 15, 2016
West Palm Beach FL
I ordered tempered glass for a table and it arrived quickly and it fit perfectly! I can't believe that I could order glass online and it was so reasonably priced!
Great product and vallue
Written By Reviewer
January 28, 2016
Indianapolis IN
Beautifully wrapped, perfect, flawless condition and cut to accuracy. WILL buy from them again! Already recommending to a friend who is a decorator.