Cyber Week Sale - 10% off and free shipping. This week only! Use Code: CYBERWEEK16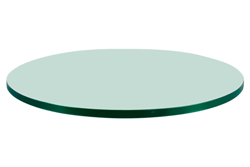 42" Round Glass Table Top, 3/8" Thick, Flat Polish Edge, Tempered Glass
Read reviews (9)
Temporarily out of stock.
42" Round Glass Table Top
Large 42" round glass table top with 3/8" thickness. Use as a table cover to protect surface of existing furniture or place on stand for to create an instant glass table. The edges of the glass are flat polished to provide a smooth finish.
This circular glass table top can also be used in situations where the entire surface is made out of glass. The glass table top compliments any base made of glass, wood, metal or any other material. To increase the strength of the glass, it is tempered. This type of glass is also known as safety glass. Weighs 53.1 lbs. Ships via FedEx.
Specifications
Condition

Brand new item in box

Shape

Round

Available Sizes

24, 30, 34, 36, 42, 48, 54

Glass Type

Clear Glass

Edge Work

Flat Polish

Glass Thickness

1/4, 3/8

Strength

Tempered
Additional Information
Tempered glass is a type of safety glass regularly used in applications in which standard glass could pose a potential danger. Tempered glass is four to five times stronger than standard glass and does not break into sharp large pieces when it breaks. Tempered glass is manufactured through a process of extreme heating and rapid cooling, making it harder than normal glass.
Flat Polish Edge: In this application the edges of the glass have been polished to a smooth shiny finish. Choose a flat polish when the edges of your glass are visible and you prefer a minimalistic look.
1/4",3/8" Glass Thicknesses are normally used to cover an existing surface such as wood, metal, etc.
(Glass table top only)
42" Round Glass Table Top, 3/8" Thick, Flat Polish Edge, Tempered Glass Reviews
Review Snapshot:
Average customer ratings:
based on 9 customer reviews.
Fantastic quality and service!
Written By Catherine
March 17, 2016
Plano TX
I ordered a 42" round glass table top for my patio table. I was a bit nervous having a big piece of glass shipped. As it turns out, there was nothing to worry about at all. I received the glass top very quickly and it was delivered packed extremely well and in perfect condition. The quality is great.
42" table glass
Written By Reviewer
July 21, 2015
East Haddam CT
Awesome piece of glass! Incredible packaging also! Will definitely purchase from you again.
Great fit and look
Written By Charlotte
December 12, 2014
Pennsburg PA
I was worried about what a glass top would do to the look of the table. And I can honestly say, the table still looks great and now I don't have to worry about the table top getting damaged anymore.
Great product, even greater is the price!
Written By janice
November 28, 2014
Nashville TN
This glass was perfect and cost about $100 less than local glass suppliers in addition locally they charged $75 to deliver. Will definitely come back!
Custom clear glass table top
Written By Reviewer
October 09, 2014
NJ
Product ordering was easy, the shipment arrived in extremely robust packaging within about a week. Very happy with the product and service quality.
Hope Chest Glass
Written By Christina Plouff
August 05, 2014
Chesapeake VA
Received my order fast and it fits perfectly! Best decision to use Dulles Glass to protect my great-great-grandmother's hope chest!
glass for table top
Written By Reviewer
July 28, 2014
Los Angeles CA
It's high quality and I got exactly what I asked for, to the nth degree. The company was very professional and efficient to deal with. It was just pricey, but I couldn't get to a store to try to find something on my own.
Best glass value
Written By Reviewer
May 26, 2014
Huntsville AL
Shipping was fast an glass was very well packed
glass top
Written By Stephanie White
April 30, 2014
Louisville KY
Fits my table perfectly. It came in just a couple days. It was wrapped very well to protect it in transportation.