Cyber Week Sale - 10% off and free shipping. This week only! Use Code: CYBERWEEK16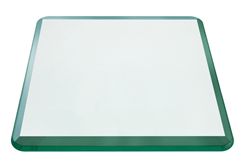 40 Inch Square Glass Table Top, 1/2 Inch Thick, Bevel Polished Edge, Radius Corners, Annealed
Read reviews (6)
Availability: In stock, leaves warehouse in 1-3 business day.
$266.00 Regular Price
($40.01) Instant Saving
Your Final Price
$225.99
40 Inch Square Glass Table Top
This is a beautiful 40" Square glass table top, 1/2" thick -- can be used as a table cover to protect surface of an existing table, desk, patio table, or coffee table. It can be placed on a pedestal to create an instant large table. The edges of the glass have a 1" Bevel to provide a sleek look.
Radius Corner Finish: All four corners of the glass are finished with a 1" Radius (also known as rounded corners.) No sharp corners means that this is the safest corner fabrication available for glass table tops.
This square glass table top can also be used in situations where the entire surface is made out of glass. The glass table top compliments any base made of glass, wood, metal or any other material.
Specifications
Condition

Brand new item in box

Shape

Square

Available Sizes

10,24,30,32,34,36,40,60

Glass Type

Clear Glass

Edge Work

Bevel Polished

Corner Finish

3/8,1 Radius

Glass Thickness

1/4,3/8,1/2

Strength

Annealed
Additional Information
Corner Finish: All four corners are cut and polished with a 3/8" or 1" radius corner also known as round corners.
Bevel Polished: In this application the edges of the glass are cut and bevel polished at 1", to provide a sleek look. This is normally used in places where the glass is a focal point in the room.
1/4",3/8",1/2" Glass Thicknesses can be used to cover an existing surface such as wood, metal, etc.
(Glass table top only)
40 Inch Square Glass Table Top, 1/2 Inch Thick, Bevel Polished Edge, Radius Corners, Annealed Reviews
Review Snapshot:
Average customer ratings:
based on 6 customer reviews.
nice product and fast shipping.
Written By Reviewer
April 24, 2016
gainesville FL
Product looks great and shipping was fast. The reason I don't give 5 stars because the way to order the product its very difficult. The fact to give numbers in fractions is horrible and makes you make mistakes. My glass measurements are not accurate and does not fit my table perfectly because I couldn't give a good measurement during my order. It should give you the option to type your numbers instead of a prefabricated numbers which don't match all tables.
40" Square Table Top
Written By Linda, Sedona, AZ
March 12, 2016
Sedona AZ
Arrived in less than a week, looks great. Thank You
Glass Coffee Table Top
Written By Reviewer
January 29, 2016
Sellersburg IN
I cant' believe I found such an awesome deal for a replacement glass top for my wrought-iron coffee table top that had broken. Thanks!!!
table top glass
Written By Reviewer
November 01, 2015
Dayton NV
Great product!
Great product for a great price
Written By Camille
January 24, 2015
Crossville TN
The replacement glass top for my coffee table was delivered almost immediately after I ordered it. It arrived in perfect condition and is everything I thought it would be, I could not be more pleased and will definitely order from Dulles again!
Great price, product and delivery
Written By Reviewer
July 02, 2014
Pittsburgh PA
I needed to replace a 40" square glass table top. After getting a quote from a local source, on Sunday afternoon I found and ordered, using Paypal, from Dulles Glass (shipping included). I paid 50% less than the local quote for a better product (1/8" thicker) from Dulles. To my shock, it arrived 2 days later (fedex). Beautifully packed, great piece of glass (1" bevel), 80# box delivered into the room. Great experience!