Cyber Week Sale - 10% off and free shipping. This week only! Use Code: CYBERWEEK16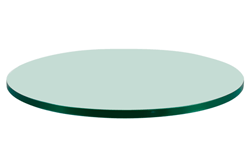 37" Round Glass Table Top, 1/4" Thick, Flat Polish Edge, Tempered Glass
Read reviews (6)
Availability: In stock, leaves warehouse in 1-3 business day.
$199.95 Regular Price
($60.00) Instant Saving
Your Final Price
$139.95
37" Round Glass Table Top
This is a beautifully exquisite 37" large round glass table top that can be used as an extensive table cover that protects the surface of an existing table, desk, patio table, or coffee table. It can also be placed on a stand to create a large glass table. The edges of the glass are flat polished to provide a smooth finish.
This circular glass table top can also be used in situations where the entire surface is made out of glass. The glass table top compliments any base made of glass, wood, metal or any other material. Tempered glass is used for added safety and strength. Weighs 52.8 lbs.
Specifications
Condition

Brand new item in box

Shape

Round

Available Sizes

24, 30, 34, 36, 42, 48, 54

Glass Type

Clear Glass

Edge Work

Flat Polish

Glass Thickness

1/4, 3/8

Strength

Tempered
Additional Information
Tempered glass is a type of safety glass regularly used in applications in which standard glass could pose a potential danger. Tempered glass is four to five times stronger than standard glass and does not break into sharp large pieces when it breaks. Tempered glass is manufactured through a process of extreme heating and rapid cooling, making it harder than normal glass.
Flat Polish Edge: In this application the edges of the glass have been polished to a smooth shiny finish. Choose a flat polish when the edges of your glass are visible and you prefer a minimalistic look.
1/4",3/8" Glass Thicknesses are normally used to cover an existing surface such as wood, metal, etc.
(Glass table top only)
37" Round Glass Table Top, 1/4" Thick, Flat Polish Edge, Tempered Glass Reviews
Review Snapshot:
Average customer ratings:
based on 6 customer reviews.
Just what I ordered
Written By Reviewer
September 06, 2014
Blue Island IL
The glass arrived in tact and on time. It fits my desk perfectly. I will definitely order from this company again in the future.
Absolutely satisfied
Written By HHorine
May 09, 2014
Rosedale MD
Since November I have been wanting a glass top for my dining table. Apartment dweller, the dining table is only 37" in diamenter. Finally found Dulles on the internet and they could do the size. Table top is here and on the table. Looks great, thanks Dulles.
37" Round table top
Written By Tim in Austin
July 18, 2013
Cedar Park TX
Quality piece with easy ordering. It was shipped in excellent packing material and was perfect for our table. Very pleased.
Glass table top
Written By sharon rentze
October 11, 2012
st charles MO
Loved the product and fast delivery
Round table top
Written By Nancy in Upper Marlboro MD
August 25, 2012
Midland TX
THANKS. The table top was exactly what I was looking for. It arrived in just 3 days in perfect condition. Instead of buying a new table set for my deck, we spray painted a second hand set and replace the glass top at a fraction of the cost. Your glass top looks great and the price was extremely reasonable.
So Simple...
Written By Peter Lindstrom
July 19, 2011
Excellent! Ordering was simple, and the service/shipping was fast. There's also a great selection to choose from. I often need specific sizes of glass in different thicknesses for art projects. Purchasing glass locally and finding a way to transport it home was always a major hassle. This couldn't have been easier. I will definitely be purchasing again. Many thanks.