Holiday Online Sales - 10% off and free shipping. This week only! Use Code: GIFTS16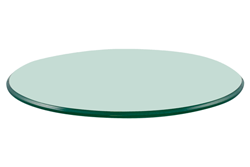 32" Round Glass Table Top, 3/8" Thick, Pencil Polish Edge, Tempered Glass
Read reviews (8)
Availability: In stock, leaves warehouse in 1-3 business day.
$155.94 Regular Price
($57.95) Instant Saving
Your Final Price
$97.99
32" Round Glass Table Top
Exquisite 32" round glass table top that can be used as a table cover to protect surface of an existing table, desk, patio table, or coffee table. Or placed on a wood, metal, glass pedistal to create an instant large glass table. The edges of the glass are pencil polished to provide a smooth finish.
To increase the strength of the glass, it is tempered. This type of glass is also known as safety glass, and will not break into dangerous sharp glass shards.
Weighs 32 lbs. Ships via Fedex. Easy to maintain and clean!
Specifications
Condition

Brand new item in box

Shape

Round

Glass Type

Clear Glass

Edge Work

Pencil Polished

Glass Thickness

3/8

Strength

Tempered
Additional Information
Tempered glass is a type of safety glass regularly used in applications in which standard glass could pose a potential danger. Tempered glass is four to five times stronger than standard glass and does not break into sharp large pieces when it breaks. Tempered glass is manufactured through a process of extreme heating and rapid cooling, making it harder than normal glass.
Pencil Polished: In this application the edges of the glass are cut and polished in an angle to produce a certain "look". This is normally used in places where the glass is a focal point in the room.
3/8" Glass Thickness is normally used to cover an existing surface such as wood, metal, etc. Or it can be placed on a pedestal to create an instant table.
(Glass table top only)
32" Round Glass Table Top, 3/8" Thick, Pencil Polish Edge, Tempered Glass Reviews
Review Snapshot:
Average customer ratings:
based on 8 customer reviews.
fast and easy
Written By Reviewer
April 06, 2016
Austin TX
This is a gift so I have not personally checked out the quality of the glass. Still, I give top marks to Dulles Glass for their website clarity and ease-of-use, promptness of delivery (earlier than expected because it is in stock) and their reasonable price. I'm happy with the purchase.
Gathering spot
Written By MSHammer
February 14, 2016
Asheville NC
We are totally pleased with our experience with Dulles Glass. Their customer service reps were very helpful in answering the questions we had, and even gave us the code for 5% off! Our table top arrived within 2 days in perfect condition. We are creating a comfy gathering spot in our kitchen (since that seems to be where friends and family like to congregate anyway!)and the table will also be a great spot to sit with a cup of coffee and the laptop in the morning. Thank you for a great product, price and shipping!
So perfect!
Written By Tricia
October 31, 2014
Williamsburg VA
High quality. Exactly as described. Ordered Tuesday and received Thursday. Sure you have to fight with all the packing material but that's what keeps it safe and sound! Wish I ordered it a bit larger but that's my fault. 32" round pencil polished and tempered.
Wow! Fast! Professional!
Written By Kelly
May 03, 2014
Ridgefield WA
I placed an online order, immediately was processed and on it's way. I lived on the West coast and expected at least 7-10 days, my order was delivered within the week, perfectly packaged. The glass it's self was exactly what I ordered and expected. I will definately not hesitate to purchase again.
Pleasant experience
Written By Reviewer
January 31, 2014
Charlotte NC
At first I was apprehensive about ordering this type of item online (32" round 3/8" tempered) but the reviews, return policy, cost and free shipping drew me in. I was surprised when the item was delivered within 3 days. I'm very pleased with the item and would defiantly consider Dullas Glass for any future glass or mirror needs. Thks Dullas for conducting business as it's supposed to be done.
Satisified customer
Written By Reviewer
December 04, 2013
Little Rock AR
Arrived safely, looks nice and is exactly what it was listed as.
32 inch Glass top 3/8 inch thick
Written By Marie R.
August 28, 2012
Plano TX
Arrived intact. Perfect. Wrapping was so trememdously protective. Would purchase again in a heartbeat
Glass Table top
Written By Joe Stevenson
July 18, 2012
Martinsville IN
The Table top arrived promptly and fit perfect. Just what we wanted. Pricing was good and it was packaged well. We are very pleased with our purchase.