Cyber Week Sale - 10% off and free shipping. This week only! Use Code: CYBERWEEK16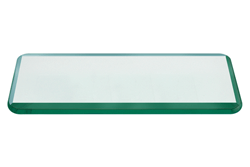 30x60 Inch Rectangle Glass Table Top, 1/2 Inch Thick, Bevel Polished Edge, Radius Corners, Annealed
Read reviews (2)
Availability: In stock, leaves warehouse in 1-3 business day.
$299.95 Regular Price
($74.00) Instant Saving
Your Final Price
$225.95
30x60 Inch Rectangle Glass Table Top
This beautiful 30" x 60" rectangle glass table top, 1/2" thick glass -- can be used as a table cover to protect surface of an existing table, desk, patio table, or coffee table. The edges of the glass are 1" bevel polished to provide a sleek look.
Radius Corner Finish: All four corners of the glass are finished with a 1" Radius (also known as rounded corners.) No sharp corners means that this is the safest corner fabrication available for glass table tops.
This rectangle glass table top can also be used in situations where the entire surface is made out of glass. Glass is tempered for added safety features. Perfect for indoor or outdoor use.
Specifications
Condition

Brand new item in box

Shape

Rectangle

Available Sizes

24x48, 24x36, 24x48, 36x72, 30x60, 48x72, 42x72

Glass Type

Clear Glass

Edge Work

1 Beveled Polish

Corner Finish

Radius

Glass Thickness

1/2, 3/8, 1/4

Strength

Annealed
Additional Information
1" Beveled Polish: In this application the edges of the glass are cut and polished in an angle with 1" bevel width to produce a certain "look". This process leaves the glass thinner around the edges and thicker in the center. This is normally used in places where the glass is a focal point in the room.
Corner Finish: All four corners are cut and polished with a 3/8" or 1" radius corner also known as round corners.
1/4",3/8",1/2" Glass Thicknesses can be used to cover an existing surface such as wood, metal, etc.
(Glass table top only)
30x60 Inch Rectangle Glass Table Top, 1/2 Inch Thick, Bevel Polished Edge, Radius Corners, Annealed Reviews
Review Snapshot:
Average customer ratings:
based on 2 customer reviews.
Nice piece of glass
Written By Janet
May 29, 2016
La Center WA
My dog broke the inset glass I had in my cocktail table. I decided the replacement should be thicker and be on top of the metal rather than inset. The ordering was easy and the glass came within a week. The problem was that when it was delivered the box was bending. As soon as we picked it up it rattled. The next business day I contacted Dulles and with no hassle a replacement piece was sent to me within 4 days. I had given feedback that there was one small tag on the original delivery that said fragile. This time bright green "glass" stickers were on the box and the tracking tag said it weighed 10 lbs more. I would buy from Dulles again.
Superb online experience
Written By John K
May 22, 2016
Rockville MD
I could not be happier with the responsiveness of my order.