Holiday Online Sales - 10% off and free shipping. This week only! Use Code: GIFTS16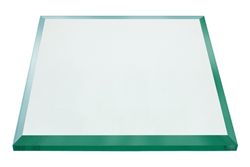 22 Inch Square Glass Table Top, 1/2 Inch Thick, Bevel Polished Edge, Eased Corners, Annealed
Read reviews (2)
Availability: In stock, leaves warehouse in 1-3 business day.
$155.95 Regular Price
($71.00) Instant Saving
Your Final Price
$84.95
22 Inch Square Glass Table Top
This is a beautiful 22" Square glass table top that can be used as a table cover to protect surface of an existing table, desk, patio table, or coffee table. It can be placed on a pedestal to create an instant side table. The edges of the glass are beveled to provide a sleek look.
Corner Finish: All four eased corners of the glass are slightly sanded down to relieve the sharp corners. This is the most popular form of glass corner fabrication.
This square glass table top can also be used in situations where the entire surface is made out of glass. The glass table top compliments any base made of glass, wood, metal or any other material.
Specifications
Condition

Brand new item in box

Shape

Square

Available Sizes

42,48,54

Glass Type

Clear Glass

Edge Work

Beveled

Glass Thickness

1/2

Strength

Annealed
Additional Information
1" Beveled Polish: In this application the edges of the glass are cut and polished in an angle with 1" bevel width to produce a certain "look". This process leaves the glass thinner around the edges and thicker in the center. This is normally used in places where the glass is a focal point in the room.
1/2" Glass Thickness is normally used for heavy unsupported table tops.
(Glass table top only)
22 Inch Square Glass Table Top, 1/2 Inch Thick, Bevel Polished Edge, Eased Corners, Annealed Reviews
Review Snapshot:
Average customer ratings:
based on 2 customer reviews.
Great table topper
Written By Chris
June 17, 2015
Urbana IL
Very well packaged, clean, and good looking sheet of glass. I like the beveled edges. I put it on the top of a stained wood end table to protect it.
quality merchandise
Written By Morris Norman
February 13, 2015
Orlando FL
excellent company. Quality merchandise. And very fast shipping.