Holiday Online Sales - 10% off and free shipping. This week only! Use Code: GIFTS16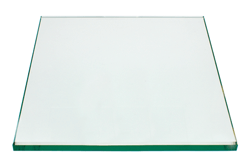 16 Inch Square Glass Table Top, 1/4 Inch Thick, Flat Polished Edge, Eased Corners, Tempered
Read reviews (4)
Availability: In stock, leaves warehouse in 1-3 business day.
$67.99 Regular Price
($22.04) Instant Saving
Your Final Price
$45.95
16 Inch Square Glass Table Top
This is a beautiful 16" Square glass table top that can be used as a table cover to protect surface of an existing table, desk, patio table, or coffee table. It can be placed on a pedestal to create an instant side table. The edges of the glass are flat polished to provide a smooth finish.
Corner Finish: All four eased corners of the glass are slightly sanded down to relieve the sharp corners. This is the most popular form of glass corner fabrication.
This square glass table top can also be used in situations where the entire surface is made out of glass. The glass table top compliments any base made of glass, wood, metal or any other material. To increase the strength of the glass, it is tempered. This type of glass is also known as safety glass.
Specifications
Condition

Brand new item in box

Shape

Square

Available Sizes

10, 12,16,18,20,22,24,30,32,34,36,40,42,48,54,60

Glass Type

Clear Glass

Edge Work

Flat Polish

Corner Finish

Touched

Glass Thickness

1/4

Strength

Tempered
Additional Information
Tempered glass is a type of safety glass regularly used in applications in which standard glass could pose a potential danger. Tempered glass is four to five times stronger than standard glass and does not break into sharp large pieces when it breaks. Tempered glass is manufactured through a process of extreme heating and rapid cooling, making it harder than normal glass.
Flat Polish Edge: In this application the edges of the glass have been polished to a smooth shiny finish. Choose a flat polish when the edges of your glass are visible and you prefer a minimalistic look.
Corner Finish: All four corners of the glass are slightly sanded down to relieve the sharp corners. This is the most popular form of glass corner fabrication.
1/4" Glass Thickness is normally used to cover an existing surface such as wood, metal, etc. This thickness should not be used to support weight.
(Glass table top only)
16 Inch Square Glass Table Top, 1/4 Inch Thick, Flat Polished Edge, Eased Corners, Tempered Reviews
Review Snapshot:
Average customer ratings:
based on 4 customer reviews.
Always Great
Written By Steve Aneiro
February 24, 2016
San Diego CA
Dulles Glass always has great service, reasonable prices, and high quality. However, the thing that impresses me the most is the way they pack and ship their products. I've purchased numerous glass tops from them, and I've always been really happy with the results
Fast Shipping!
Written By Reviewer
August 16, 2015
Mckinney TX
Quality product, fast shipping, online instructions, solid customer service.
Replacement glass for coffee table
Written By Reviewer
October 31, 2014
Chicago IL
Easy online ordering. Great service and great price/ I received my order in two days and it fit perfectly.
Glass top
Written By Reviewer
August 29, 2013
Escondido CA
Ordering was easy, shipping was quick and the product was just as advertised. I would definitely order from them again.