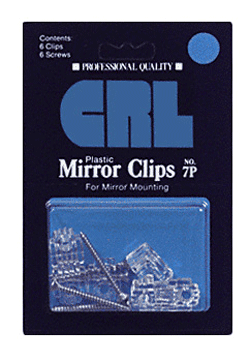 1/4" Standard Plastic Mirror Clip - Display Package
Availability: In stock, leaves warehouse in 1-3 business day.
$6.66 Regular Price
($0.87) Instant Saving
Your Final Price
$5.79
Product Description
Display on Sales Counter or Hang on Pegboard
Conveniently Packaged, Clips and Screws in One Pack
Plastic Mirror Clip Counter Display is an ideal method of making most popular mirror clips and screws available in attractive retail blister packs to your walk-in customers.
One box contains 6 Clips per pack of either 1/4 or 1/8 inch (6 or 3mm) clips.
Specifications
Catalog Number:7P Mirror Thickness:1/4 in (6 mm) Shipping Weight:3 oz (91g) Case Qty 4 Minimum Order: 1 Package
Additional Information