Why Frameless Shower?
Reasons To Go Frameless:
Cleaner

The clean appearance of thick, frameless glass panels makes your shower the focal point of the bathroom.

Hygienic and Easy to Maintain

With no crevasses, frameless glass panels are far easier to clean than framed panels. The metal parts of stainless steel instead of aluminum are also easier to maintain. You won't have to worry about cleaning gunk, off of bulky metal parts.

Modern

Opening the substantial, tempered glass doors of a frameless glass shower enclosure are a far different experience than using the rattling shower doors of old. Also, shower designs such as the 'neo-angle shower', are at the top of the bathroom trends heap.

Durable & Superior Craftsmanship

Thick tempered glass is far less likely to break. The subtle hardware of a frameless shower stay in place and are fastened through holes drilled in the glass. This is unlike the shower doors of big box retailers, whose thin glass is held together by glue inside poor quality aluminum hangers. Also, the superior craftsmanship of high quality materials and thicker glass makes our frameless glass shower doors one of the longest lasting enclosures in the industry!

Clear Shield Glass Protectant

To make your life easier still, add Clear Shield, a treatment that bonds to the glass and makes your glass shower "hydro-phobic" and keeps it very clear, as the water beads off of your glass.

Shows Off Tile work Easily

A frameless glass shower door will showcase your delicate tile work. There is no bulky hardware to hinder the view of your tiles, and with the option of

HD

glass, you can even get rid of any greenish hue, for a crystal-clear visual in your bathroom.

Adds Value to Your Home

Making a frameless glass shower the focal point of your bathroom will increase the value of your home. Research shows that such a bathroom upgrade, is one of the best ways to increase the future purchase price of your home.

Fully Customizable

You get to configure your frameless glass shower the way you want it. Down to the size, height, width, glass type, hardware color, and hardware types.

A Sleeker, Brighter, Bigger Bathroom

The less bulky, "framed" hardware one has in their bathroom, and the more glass, the brighter their bathroom will be. With a frameless glass shower door, light is not impeded and the resulting brighter bathroom, will also appear larger and more spacious!

Environmentally Friendly

One thing to consider – those vinyl shower curtains are proven to be toxic. The carcinogens found in PVC plastic that are used to create those ugly vinyl curtains can be harmful, not only to the environment when disposing of them, but to you, when you're breathing in the air in your bathroom. With a frameless glass shower door, you have none of those concerns!

Recyclable

Glass is also recyclable. On the other hand, vinyl shower curtains have to not only be constantly replaced (costing you money), but they do not decompose and add to the waste.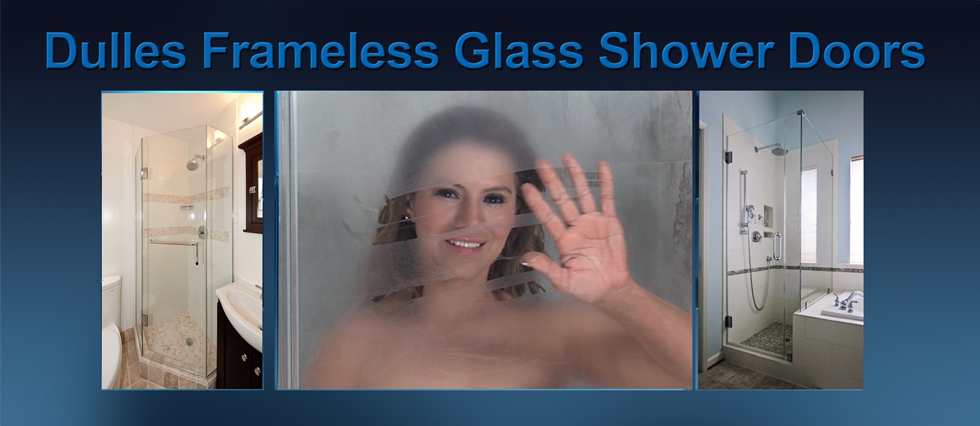 So why not turn your outdated bathroom into an oasis of luxury where you can pamper yourself? It does not take much to turn your bathroom into a space where you will actually want to spend more time. A space where you can retreat into a haven of relaxation and blissful solitude; and a space from where you can emerge soothed, refreshed, and reenergized.
Sounds better than your moldy, not-so-fabulous vinyl shower curtain that is hiding some not-so-microscopic bacteria? You're probably right, it's time to upgrade and unwind after a long day of work in your own private getaway that will put any spa to shame, baby!