Choose your frameless glass shower door template below and start customizing.

It only takes 2 minutes to create a glass shower door for your shower enclosure! Your Shower, Your Way.
Here Is How It Works - Handling Process

Build & Quote Your Shower
Measure your shower space and design your dream shower with our 3D Shower Builder Tool while your price is being quoted right on the spot.

Technical & Design Support
Our shower expert team will call you within 1 business day to go over the design and technical details with you.

Design & Order Approval
A drawing will be created by our design department and shared for final approval.

Fabrication & Quality Control
Your glass shower door is now ready for fabrication in our very own U.S. Based plant in Manassas, VA. We guarantee a 100% premium quality at all times.

Curbside, Contactless Delivery
Your glass shower door and hardware are packed safely and ready to be shipped. The quoted price incl. shipping and curbside delivery!
Get Inspired By Some Glass Shower Door Projects
How To Measure Your Shower Enclosure
Measure Width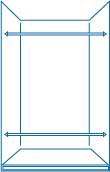 Measure Height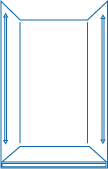 Tools You Need
Tape
Level
Pencil
Protractor
Tape Measure
Need expert help? Call us 1-866-452-7707
We are here to walk you through the measuring process
Downloadable Installation Guides
5 Glass Shower Door Models
Just the right models for your bathroom needs, customized and fabricated to your specifications.
Solo™
Single Shower Doors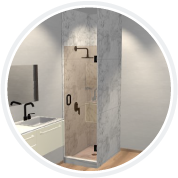 A glass shower door with your choice of glass type, hardware and more. This door can open to the left or right.
Prima™
Door & Panel Shower Doors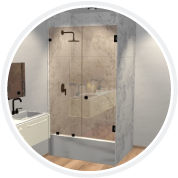 Also known as an inline shower, this type includes a glass door and at least one glass panel. The door can attach to glass or the wall, and open from the left or right.
Canto™
Corner Shower Doors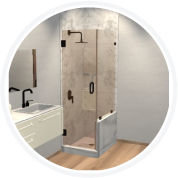 This model consists of two glass walls and two solid walls, and fits in the corner of your bathroom. The door can attach to glass or the wall and open to the left or right.
Tela™
Shower Screens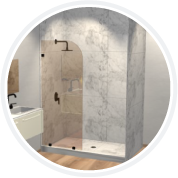 If you're looking to replace your shower curtain, our full line of sliding and swinging bathtub shower doors are just what you need.
Metro™
Sliding Shower Doors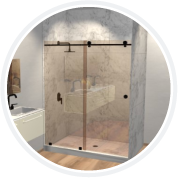 Beautiful and stylish, our frameless sliding shower doors have a low-profile, heavy-duty smooth sliding mechanism at the top. The rest is pure glass.
Glass Types For Your Shower
Our glass shower doors are fabricated from different glass types, colors, and patterns.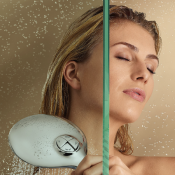 Clear Glass
High clarity with a minimal greenish tint. Very easy to maintain and the most common option chosen by our customers.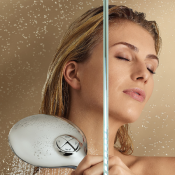 HD Glass
A colorless appearance type with an exceptional clarity, a higher light transmission, and less greenish tint. True colors of shower tile can be seen from the outside of the shower.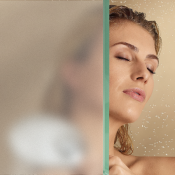 Opaque-Clear Glass
Distinctive and uniformly smooth with a satin-like appearance. This kind of glass admits soft light while providing a bit of opacity. Only one side of the glass is etched leaving the other side smoother for easier cleaning.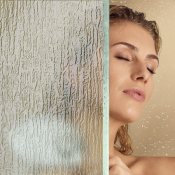 Rain Glass
Beautiful patterns of rain give this type of glass a decorative look. It admits soft light while providing visual control. Only one side of the glass is patterned leaving the other side smoother for easier cleaning.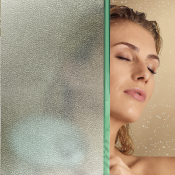 Polar Glass
Distinctive glass, textured on one side that provides a higher level of privacy. Very similar to our Opaque-Clear glass type but has the look of ice frozen on glass.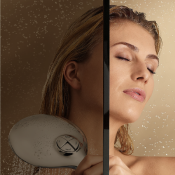 Bronze Glass
Bronze glass shower-door panels showcase a tinted coppery look. The opaque bronze glass is a unique choice for every shower door glass. The tint adds to the privacy of your shower enclosure.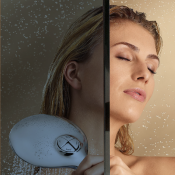 Gray Glass
The Gray shower glass type presents a tinted smokey look. As the darkest of our tints, gray shower glass offers the most privacy of them all. Choose gray shower glass panels for a very unique look and high level privacy in your bathrrom.
17 Shower Door Design & Construction Tips
We know that any remodeling project can seem a bit daunting, so we've put together some pointers for making the planning process easier and ensuring the installation process goes as quickly and smoothly as possible. These are advanced tips, so are likely more suitable for your contractor or a very advanced DIY-er.