Custom Gray Glass
Choose a shape below to start the customization process.
Rectangle
Select
Square
Select
Round
Select
Oval
Select
About Our Custom Gray Glass
Gray glass adds a unique, high-end sophistication to your home. This smokey gray tinted glass is suitable for use anywhere you use traditional glass. If you're looking to replace broken glass, updating your look with gray glass is always a good choice. Here are a few fast facts about our gray glass:
Gray glass is made from the same high-quality glass that we use for all of our products.
You can specify the shape, size, thickness, edge types, corner types, and even whether or not you'd like an umbrella hole in the center!
You can also specify whether you want tempered glass for added durability.
Gray glass is a versatile design choice that you can customize to be exactly what you want.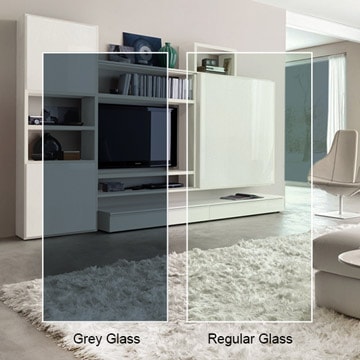 Where to Use Gray Glass
You can use gray glass as a unique interior accent anywhere you would normally use glass. Here are a few places our customers have used gray glass in their home improvement projects:
Table tops
Table covers
Patio tables
Shelves
Cabinet or curio glass inserts
DIY craft projects
*Please note that your monitor settings may have an effect on how the gray glass looks to you. Actual color may vary from on-screen representation.