Custom Glass Shelves
Choose a shape below to start the customization process.
Rectangle
Select
Triangle
Select
Pentagon
Select
Quarter Circle
Select
Click here for bulk orders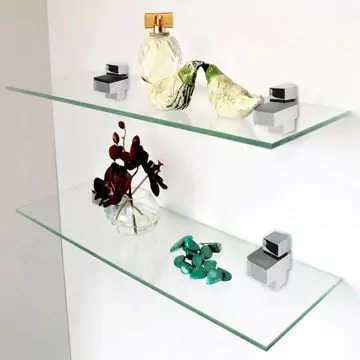 About Our Glass Shelves
Glass shelves are a great way to add some high design to your space without breaking the bank. We have a full selection of custom glass shelves and in-stock glass and shelf kit options. Here are some things you should know about our glass shelves.
Custom glass shelves are available in rectangle or square shapes, and you must order the shelf brackets separately. Choose a custom glass shelf when you need to specify the thickness of the glass, the color of the glass, or the type of edge finish on your shelves.
Our corner glass shelves are available in in-stock sizes, and you will need to purchase the hardware separately.
Most of our in-stock glass shelves are in pre-made sizes and include the necessary glass shelf hardware.
Where to Use Glass Shelves
Our custom and pre-made glass shelves can be used in a variety of places around your home or business. They're just as sturdy as other types of shelves, and can hold a fair amount of weight. A wall-mounted glass shelf can add just the right amount of modern class for a light-enhancing, streamlined look. Here are some places you can use glass shelves.
Bathrooms - our custom shelves and shelf kits are safe to use in a humid environment like a bathroom, even in the shower!
Kitchens - use glass shelves to replace a broken cabinet shelf or to add attractive storage space.
Home Decor - use glass shelves in living rooms, bedrooms, closets, or dining rooms.
Offices - custom glass shelves can create a modern workspace, whether it is in your home or business.
Restaurants and Bars - Custom glass shelves are a great choice for your business, especially bars and restaurants. They're easy to keep clean and are durable enough for heavy use.
How to Order Glass Shelves
Make sure you get the right glass shelf for your space! We're here to help, if you have any questions. Here are the steps to ordering glass shelves:
Measure the area where you want to hang your shelves.
Use our Glass Shelf Weight Load calculator to see how much weight your shelves can support.
Figure out how many brackets you will need. The Weight Load calculator includes some information about how far apart you might want to put your brackets based on the thickness of the glass you're choosing. You can get more information on shelf brackets here.
Remember, you can always order a glass shelf kit if you don't have any special requirements for your glass shelves.
Shelf Brackets
If you're ordering a custom glass shelf, you'll need to order the shelf brackets separately. Here's what you need to know:
Our brackets are made from durable, high-quality stainless steel.
Each package comes with two brackets, two drywall anchors, and two screws.
Brackets are available in brushed nickel, chrome, brass, black, satin chrome, white, and oil rubbed bronze. Not all styles are available in all colors.
Brackets are designed to work with ⅛" to 15/16" thick glass shelves, up to 10" (protrusion) from the wall.
Glass Shelf Installation
Installing glass shelves is generally an easy do-it-yourself job. Here are some things to remember:
For maximum strength in drywall installations, brackets should be secured to a stud no more than 16" apart.
In concrete installations quality anchors are recommended.
The material directly behind the bracket could have an affect on the brackets' performance. Hard materials such as concrete, tile or marble do not have the tendency to dent or collapse, so that should be fine
Drywall can compress or dent and allow the front edge of the shelf to slant down, if the shelf is not installed over studs. Therefore, understanding the depth of the shelf and the amount of weight placed on it are important. Find out more with our Glass Shelf Weight Load Calculator.