Spooky Halloween Glass and Mirror DIY Crafts
---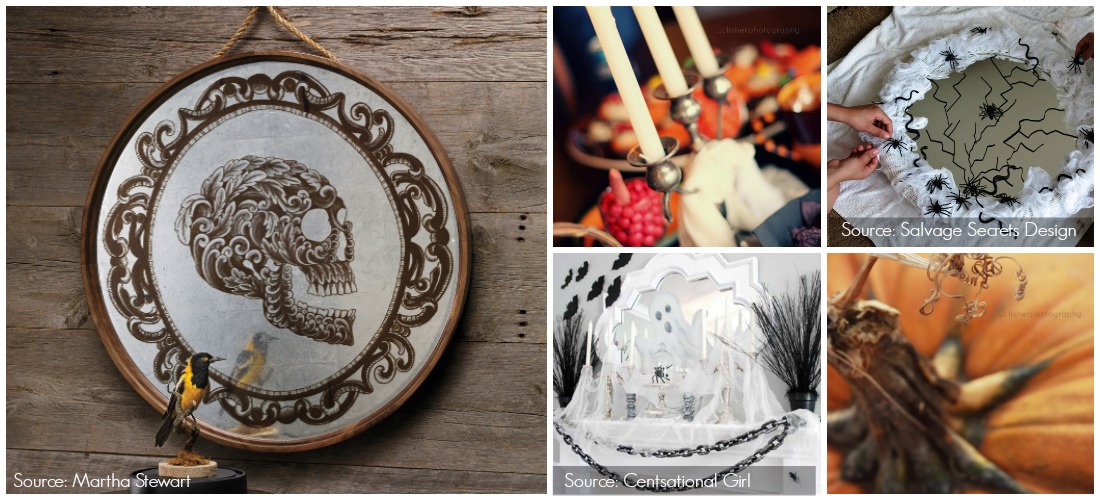 ---
Halloween is a great time for doing DIY crafts, and a lot of spooky crafts have to do with mirrors. Why? Mirrors have long held a place in horror and fantasy literature and films: from being portals into other dimensions to being haunted or cursed objects. If you're not a crafty person, never fear. There are plenty of folks out there with great ideas on how to craft for any holiday or season Many a ghost tale has sent a shiver up spines with stories of reflections moving just a bit differently from yours or of seeing creatures or people who weren't really in the room. <Shudder!>

Before we begin, I want to add one caveat to what some of the bloggers and crafters below say. Several of them suggest finding a mirror at a thrift store to use in your craft. Who has time for that? I certainly don't. Plus, if I'm going to bother making a craft at all, it better last through at least a couple of seasons! Of course, you can get high-quality glass and mirrors cut exactly to your spec delivered to your door fast, easy and in one piece.

So here's a roundup of five very different spooky Halloween crafts you can make with mirrors or glass. Enjoy!
Haunted Ghostly Mirror

DIY Level: Advanced


cre8tivecompass.com[/caption]

This haunted ghostly mirror will take a little more time up front (and some computer skills to boot). But the end result is stunning. Rebecca E. Parsons from Cre8tive Compass details the entire project here, from selecting the right photo to use, affixing it to the glass, and getting just the right finishes.

Rebecca's advice during this project? Do not rush. (And that's how I know that this will not be the craft that I choose for Halloween!)

Rebecca suggests using a pane of glass for this project along with the Krylon Looking Glass paint. It's easy to get a thicker-than-average pane of glass cut to your exact sizing so that you can get your spooky mirror out each year and stage it in different scenes depending on what's happening. This project is for hardcore Halloween enthusiasts and DIY-ers with "wizard" level skills.
Crafts for Kids (and the Craft-Challenged Adult)

Skill Level: Beginner


Salvage Secret Designs[/caption]

Joanne Palmisano over at Salvage Secret Designs has a craft that can be enjoyed with your kids (or if you're like me,

this is about your speed). As easy DIY crafts go, you might do well to get a mirror for each child so they can have their own. This would be a great craft for a Halloween party where each child could take a mirror home with them.

For this simple craft, all that's required is a round mirror (or another shape if you're so inclined), gauze, a hot glue gun, and an assortment of creepy-crawlies and little spooky spiders to finish off your mirror.

You can find our great selection of round in-stock mirrors here.
A Ghoul-ish Fun Mirror that Wipes Clean

Skill Level: Beginner


Centsational Girl[/caption]

One of the greatest DIY and design bloggers of all time, Kate from Centsational Girl, always has fantastic ideas for high-impact, low-budget projects. In this post, she shows how you can create a Halloween-themed mantel-scape complete with a fun, ghoulish mirror that -- get this -- can be wiped clean and used for every day after the tricks have all been treated!

All you need for this whimsical DIY craft is a mirror that you like, some washable tempera paint, some cobwebs, and your imagination. Maybe you can make this your excuse to finally get that nice, high-quality mirror that fits just right over your mantel...after all, you can use it all year round when you're done!
DIY Crafts | A Skull Mirror

DIY Level: Looks hard but is actually super easy. Bonus!


Martha Stewart[/caption]

So, no one does Halloween like Martha Stewart. If you're aiming to impress and have time on your hands, this skull mirror is going to do the trick. And, you're really going to want to save this one to use over and over again.

For starters, you're going to want to buy some adhesive sticker paper. Yep, that is available on the internet and at office supply stores. Fortunately for all of us, Martha provides the artwork for download on her website, which means all you need to know how to do is work your printer (I will need to get right on this after I'm done with this post).

Once you print out the patterns, you just have to affix to the mirror. The best part about this project is that the adhesive paper can be peeled right off so you can re-use your mirror for other holidays and occasions.

Finish it off with a little nautical rope and a spooky little sidekick, and you're set!
DIY Crafts | Not the Craft We Wanted, But the Craft We Needed

Skill Level: Non-existent


Thrifty Decor Chick[/caption]

You guys. I found the best craft for busy moms whose children are still small enough to be impressionable. While this may not be enough to impress your friends and neighbors, kids will love these DIY crafts. Not only that, it's totally reusable and you don't have to feel bad taking it down when you're done. Plus, you'll have hardly spent any time at all doing it, so you really won't feel bad.

That being said, this is a great idea. According to the Thrifty Decor Chick, you can make this sassy little ghost with the sticky vinyl texture stuff you put on windows for privacy. One commenter even suggested that you could use Glad(r) Press 'N' Seal(r) plastic wrap, which even comes in some cute seasonal designs, to do the same thing.

So what are you waiting for? These crafts won't wait! You have time to get them done by Halloween, so head on over to Dulles Glass & Mirror and get what you need for your DIY crafts today!






---