Glass Shelves for Bathrooms
---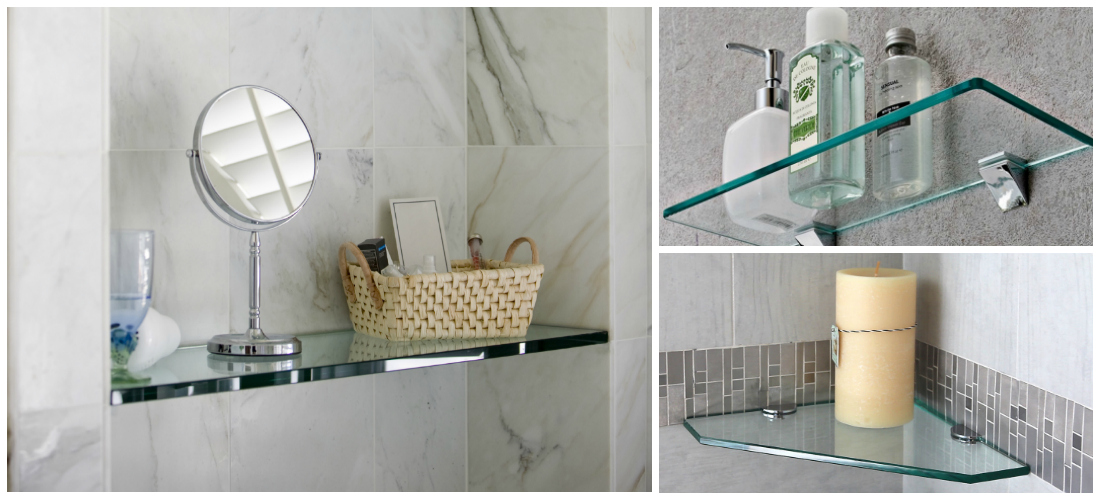 ---

What's one thing a bathroom can never have too much of? Storage. The possibilities are endless for creating spaces for all of your things, while still making them look neat. But where do you start?


Floating glass shelves offer an airy, elegant answer to the question of bathroom storage. Maximize your space with a modern touch. Use them to store essentials or to show off your display items. Functional and beautiful bathroom storage? We just made that a reality for you.

Glass shelves are a terrific solution, and can be placed throughout the room with a lovely effect. They don't interfere with the design you already have in your bathroom. Unlike metal shelves, they won't rust or succumb to humidity. Plus, they are an easy DIY project.

Corner shelves are very popular for showers. Because they are glass, they are easy to clean with just a simple solution of vinegar, water, and lemon. Made from tempered glass, they are very safe. They don't interfere with the view of the shower tiles or design. And, if you already have a beautiful glass shower from Dulles Glass, they complement it very nicely.

The corner shower to the right is called a pentagon shelf, because of the diamond corner shape with clipped corners. The decorative clips used to hold the shelf up can be customized to your liking.

You can choose your shape depending on your space. The triangle, corner pentagon, or quarter circle can be effective and chic in a shower. An unexpected shape like a square can add a spa-like quality to your shower.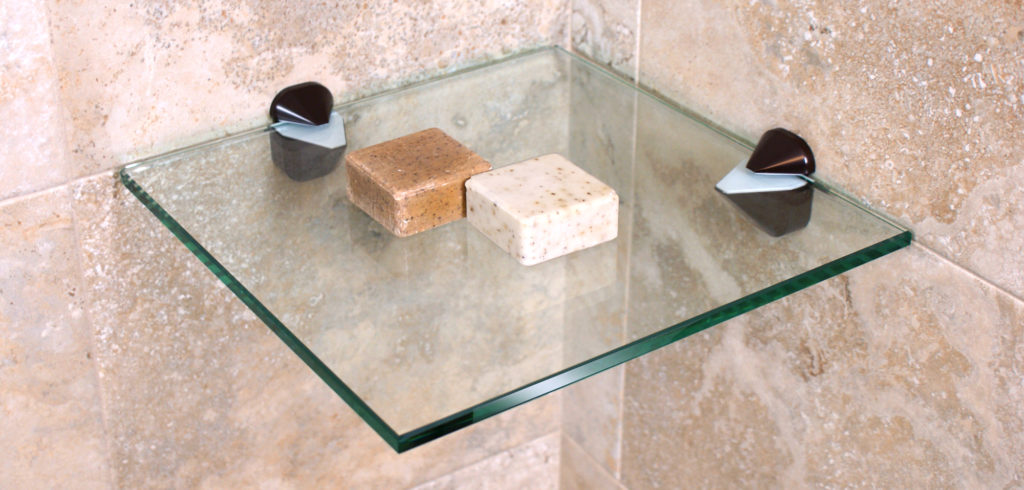 Glass shelves are also terrific when you've got a bit more space--perhaps a niche or a recessed area. The rectangle is perhaps most flexible in the ways you can use it. Open, floating shelves look so graceful, and are light and space efficient.

If you've got a pedestal sink, or don't have a medicine cabinet these easy to install glass shelves can be a life-saver. Use them above the toilet or even above the door to store your towels!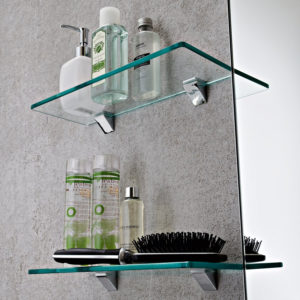 With Dulles Glass and Mirror you can buy the whole kit--everything you need to do it yourself, with ease. These kits include the hardware and the glass. And just because it's a kit, doesn't mean you don't have choices. You can attach the shelves via one (for floating), two (for corners) or three (for recessed spaces) walls. The possibilities are endless. From the kind of glass (frosted or clear) to shape and kind of finish on the hardware (chrome, brushed nickel, brass or colored), you can pick the elements that work best in your space.

Many people don't think of shopping for shelves online, especially custom glass shelves. But it's easy, economical, and safe to order them online at Dulles Glass & Mirror.
---