Do It Yourself Gifts For Mom
---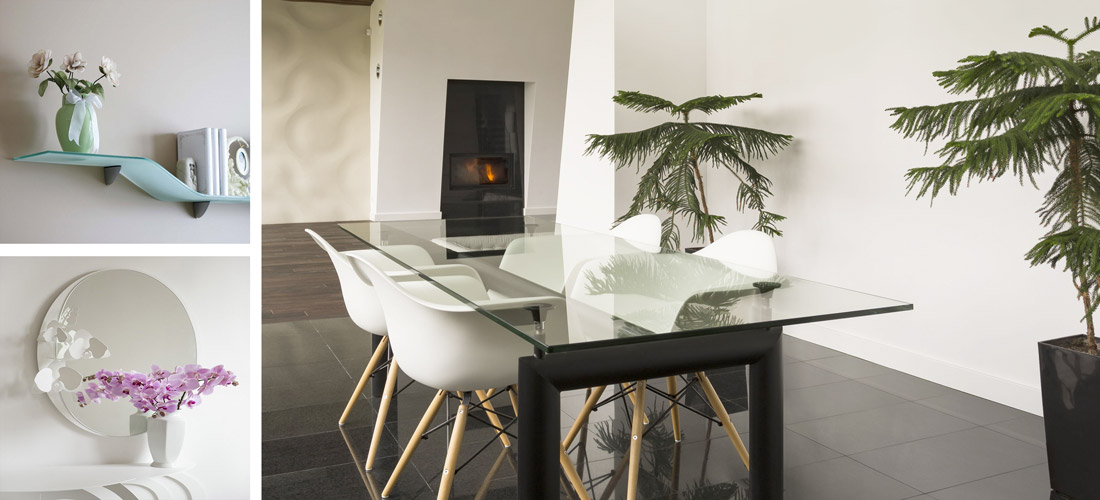 ---
Mother's Day is right around the corner: Sunday, May 13, 2018. Have you found the perfect gift for your mom (or special lady in your life)? If not, these
do it yourself gifts for mom
will last for years to come. We'll show you what some of our customers have done with their glass and mirror purchases, to help inspire your Mother's Day gifts!
Tempered Glass Shelves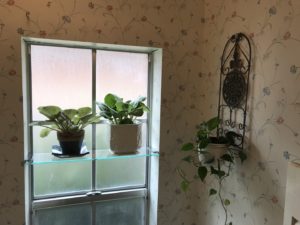 Whether it's a corner shower shelf or extra shelves for an office,
glass shelves
are a great way to help your mom stay organized. Here are some creative places that you could use glass shelves: closets, over-the-sink in the bathroom or kitchen, DIY floating entertainment sets, and glass bookcases.
It's easy to install corner glass shelves, and they maximize use of extra space in your home. Our corner shelves make the perfect shower shelf. This do-it-yourself gift for Mom takes minutes to install and will help your mom stay organized.
Shop for Glass Shelves >
Glass Table Tops for DIY Projects
Our customers are a talented bunch - and they have literally made tables out of
everything!
From reclaimed wood to jet engines, you just have to have some imagination and creativity to come up with something you can use as your table base. Then, customize your
glass table top
at our site for the perfect look and fit!
What would mom think if you surprised her with a beautiful memento table like this handmade creation from a customer? We think that kind of cache would make you the favorite child for a long time!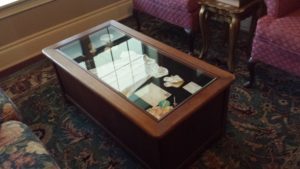 Table covers are also a great idea for a water-ring-hating mom. Similar to table tops, a table cover is typically (but not always) thinner than a table top because it just covers the surface of a table for protection rather than support. A table cover is the perfect solution for protecting mom's heirloom table, countertop or desk!
Shop for Glass Table Tops >
Custom Mirrors | Do It Yourself Home Decor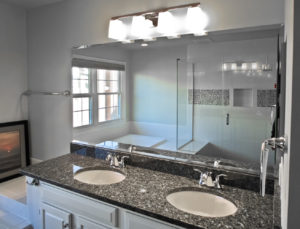 A beautiful
custom mirror
from Dulles Glass & Mirror is the perfect gift for moms everywhere. Unlike craft store or hardware store mirrors, you can customize your mirror exactly to the space you need filled - whether it is large or small. You can even choose the color (like clear, bronze, or gray) and the edge types.
So what are you waiting for? Replace that vanity mirror or create something cool for your mom, like a mirrored table top or desk. Make a statement over the mantle, or spruce up that entryway! The best part is, mirrors are super easy to install. You just need some mirror adhesive, clips and, if it's a large mirror, a J-Bar for the mirror's bottom support.
Shop for Custom and In-Stock Mirrors >
Frameless Bathtub Glass Screen | A Pampering DIY Mother's Day Gift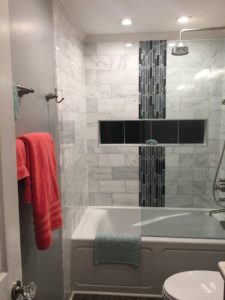 Are you a little more ambitious? A slightly bigger DIY job can have you seriously updating the whole look of the bathroom in a few hours! A
frameless bathtub screen
means not only a brand-new look, but never having to replace a moldy, worn-out shower curtain again.
You can get frameless bathtub screens in a variety of sizes and shapes. The beauty of a frameless shower screen is that it opens up the visuals in your bathroom, while still creating a barrier to keep the water in and keep you warm in the shower. Just a few simple tools, and this upgrade can be yours!
Shop for Frameless Bathtub Screens >
Gym Mirrors | A Healthy Do It Yourself Gift For Mom
Help your mom save money on a gym membership with a home gym mirror. Our
gym mirrors
are easy to install and have zero distortion due to low-iron content. Not only will you will help your mom save money, you can help her improve her health!
Think outside the box: home yoga studios create a Zen-like space for mom to get away. Or maybe mom is a mover-and-shaker and needs a dance studio? Anything from Taekwondo to meditation rooms are possible with ultra-clear, shatter-proof MiraSafe gym mirrors.
Shop for Gym Mirrors Now >
We hope that the above ideas give you inspiration while looking for the perfect do it yourself gift for your Mom this Mother's Day. Be sure to explore our website to get additional ideas. If you have any questions, don't hesitate to contact us. A customer service representative will be happy to answer your questions.
Happy Mother's Day!!
---