Customer Project: Custom Cut Glass Table Cover
---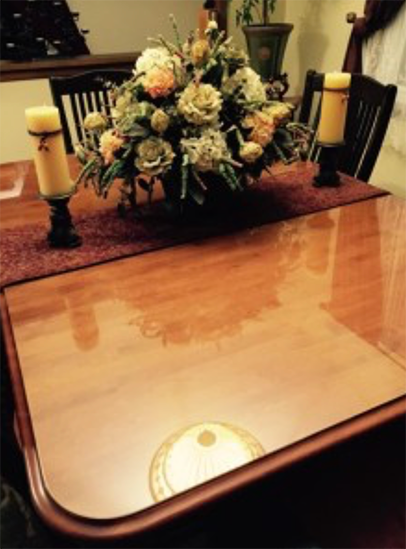 Our customer, Dora Martin Ramos of New York, recently purchased a custom glass table cover to protect her dining room table. It looks great, and she couldn't be more pleased with the results. "Still one of the best things we ever did," she says, noting that the glass showcases the beauty of the wood at the same time it protects her heirloom table.
Glass Table Covers To Protect Furniture | Round, Oval, Square and Rectangular

One thing to note about this glass table top (often referred to as a glass table cover) is the rounded edges. When ordering a custom glass table top at our online store, you'll first choose the shape (in this case a rectangle). On the next screen, you'll enter your measurements. And if your table has rounded corners like Dora does, on the last screen you'll want to adjust the corner finish option for radius and polished corners. You'll have to know how to measure the radius of your corner, but don't worry...we've got you covered there with a handy video that will help you get just the right shape to your glass. So head on over to our online store and get your custom glass table cover today!
Customized Glass Table Tops

Our glass is cut to order and with a click of your mouse, you can customize the style of your glass table top cover. Glass table tops can be used to cover furniture such as dressers, dining tables, kitchen tables, conference tables, desks as well as patio and wicker furniture sets. Protect your outdoor furniture from the elements with glass table tops and protect your indoor furniture from rings and food stains as well as everyday wear and tear.
How to Measure Your Table For a Glass Table Top Cover

Need extra help with measuring your table? Watch our video to find out how to measure custom cut table top corners.

https://youtu.be/SCHfQXNsH_o

We love our customers and love when you all tell us what you did with your glass!
---