Custom Frameless Mirror And Glass
---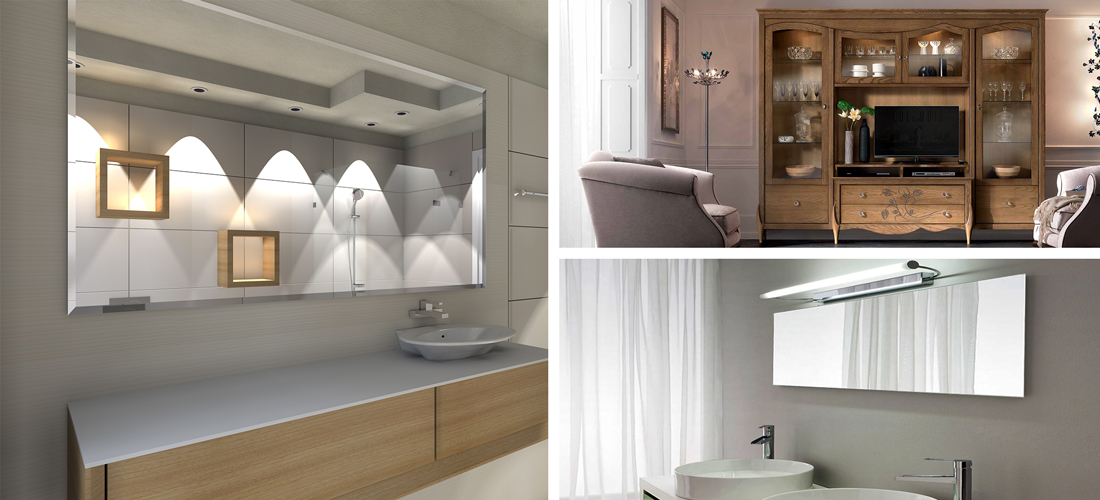 ---
Dulles Glass & Mirror has a wide assortment of custom frameless mirrors for your bathroom or for replacement mirrors. If you need ideas on customizing your mirror or you need a specific size for mirror replacement, you've come to the right place. Often times, our customers have the best ideas when it comes to custom mirrors. Let's take a look at the latest customer mirror projects.
---
Custom Frameless Beveled Mirror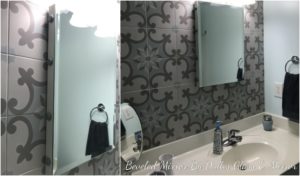 Our customer Elizabeth needed a new bathroom mirror. With decorative tile, you gotta have a custom frameless mirror that will complete the look. What better way to personalize your bathroom than customizing the mirror to your liking? Elizabeth did just that by ordering the exact mirror size that she wanted along with a custom bevel edging. Big or small, we let our customers decide what size mirror they want. Unlike other mirror companies, Dulles Glass & Mirror allows customers to design and customize their mirrors online. Be as creative as you want!
Here's what Elizabeth had to say about her custom beveled mirror:

"I ordered my mirror over the phone to a very helpful customer service person. She was kind and answered all questions added my discount that I couldn't get to work online! I got the mirror in less than a week! It was packed beautifully and is perfect for my project! Would definitely recommend you to anyone looking for a beautiful mirror at a good price and customized size! Thank you for a great product!"
Rectangular Custom Frameless Mirror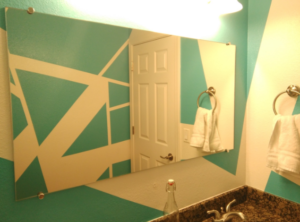 Benjamin not only got creative with his geometric paint, he also ordered a mirror that would fit the look of his bathroom. Ben wanted a long rectangular mirror rather than a square mirror. At Dulles Glass & Mirror, customers can choose from four different mirror shapes: square, rectangle, round or oval. If you need more ideas for customizing your mirror, view some of our other posts on custom mirrors. With some mirror glue and custom size mirror strips, you can even recreate this DIY multi-layered art deco mirror. To achieve Ben's mirror look, you will need to order mirror glue and mirror clips. After receiving his mirror in the mail, Ben was happy with the results.
Here's what Benjamin said of his custom size mirror:

The mirror is perfect! Thank you!
Curio Cabinet Replacement Mirror And Glass Shelves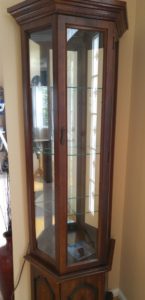 During a move, Allyson's curio cabinet mirror was shattered. After researching online for replacement glass and mirrors, Allyson came across Dulles Glass & Mirror. Allyson ordered a custom cut mirror in the exact size to fit the back of her curio cabinet. Luckily, no glass shelves were broken during the move. If the curio cabinet glass shelves ever break, Allyson can order custom size glass replacement shelves on our website, too. We're your online custom glass specialists!
Here is Allyson's review of her curio cabinet replacement glass:

"The glass in the back of our curio shattered during a move. We got a quote from a handyman for over $400 plus materials to replace it. We did some research and ordered a custom mirror and glue from Dulles, and we were able to fix it ourselves within a week for a fraction of the cost. Looks as good as new. Thank you!!!"
Buy Custom Frameless Mirrors

Whether you need a new custom frameless mirror for your bathroom or you need a custom size mirror replacement, Dulles Glass & Mirror has you covered. We also offer hardware for mirror installation such as J-bars (these are metal edge supports), mirror clips, mirror glue and glass cleaner.
---