Beveled Mirror on Antique Buffet
---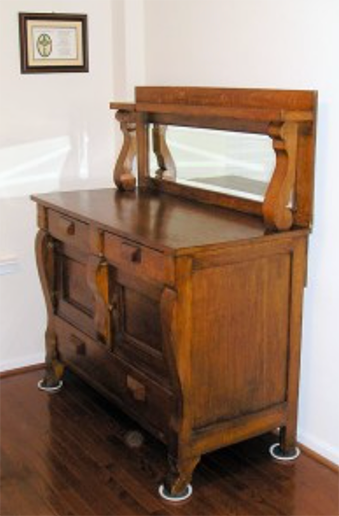 That antique furniture with missing glass or mirrors doesn't have to sit in a garage or attic gathering dust! Just ask Mark Piotrowski of Charles Town, WV. He recently restored a 100-year-old buffet by replacing a the broken beveled mirror with a brand-new one.

Using our pick-up feature for customers within driving distance of our manufacturing facility in Manassas, VA, Mark had a 11"x 44" mirror with a 1.25" beveled edge custom cut for this project. Mark had this to say about his experience:


"The mirror fits perfectly, and is exactly like the original mirror which was broken years ago, The restored piece looks fantastic ! Five stars to Dulles Glass for their craftsmanship and their care in packing. We are most satisfied, and highly recommend Dulles Glass for your custom mirror needs."

Thanks Mike, for your ringing endorsement! We're happy that your antique piece turned out so beautifully.
How to Get a Beveled Mirror

So how about that beveled edge? A beveled edge just means that the edges are cut and thinned to your specified angle, creating a more elegant look. You can specify your beveled edges to be cut between .25" and 1.75" wide, depending on the look you want to achieve. A 1.25" beveled edge is large and dramatic, but suits this buffet well. Choose a beveled edge mirror when you want it to be a design focus of your room.

Order your custom beveled mirror online, it's easy to specify the exact width that you want. Just choose beveled edge on the Edge Type option (shown below) and use the dropdown to choose the width of the bevel. This option is available after you choose a shape and enter the measurements for the size of your mirror.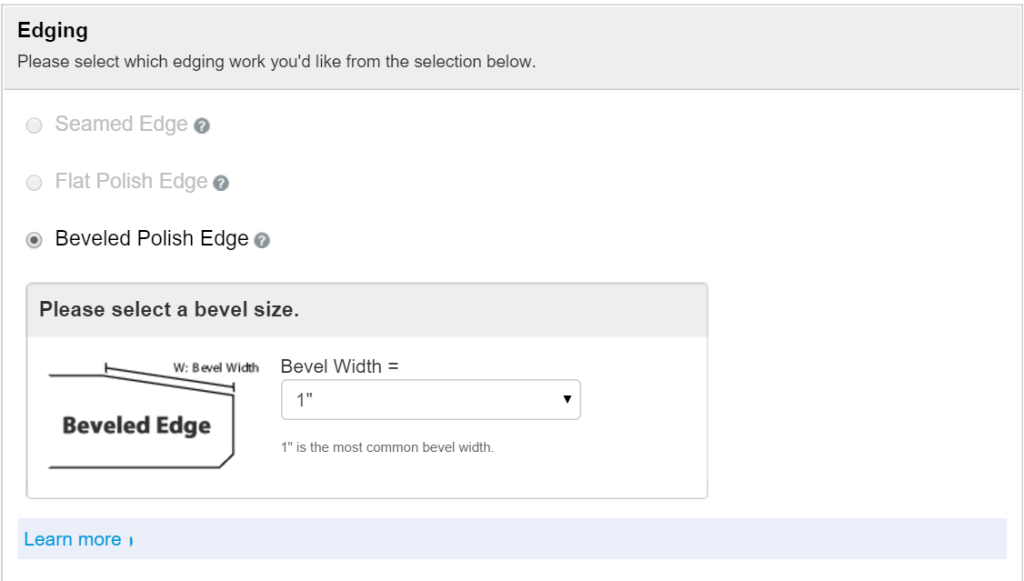 So go dust off that antique piece and get the replacement glass or beveled mirror that you need today! Good luck, and please: share your results on our Facebook page. We love to see happy customers!
Order replacement glass at our online store.
---