Custom Beveled Glass
Choose a shape below to start the customization process.
Rectangle
Select
Square
Select
Round
Select
Oval
Select
About Our Beveled Glass
The term "beveled" refers to a glass that has its edges cut and polished to a specific angle and size in order to produce a specific elegant look. This process leaves the glass thinner around the edges, while the large middle portion remains the normal glass thickness.
The bevel edge on your glass can range in size from 1/4" to 1-3/4". You can also have the edges of your glass polished to create a sleek, "finished" look. Beveled edge glass is a common choice for both indoor and outdoor tabletops.
Here are some fast facts about our beveled glass:
We use only the highest-quality glass sheets to fabricate your custom mirror.
The maximum size in one sheet for shipping is 119" x 79".
You can specify the shape, thickness, type of beveled edge, color, corner finish, and even if you need an umbrella hole in the center of your glass!
Your custom order will arrive at your doorstep intact, within 5-7 business days.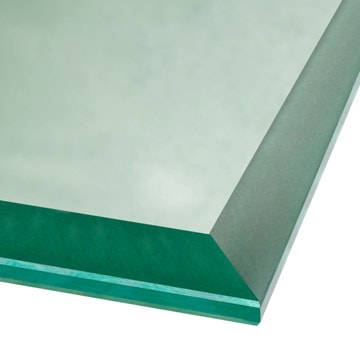 Beveled Glass Ideas
Beveled glass is an elegant choice for statement pieces such as your main dining table, a central coffee table or anywhere in your home you would use standard glass, but with a subtle, elegant difference. Here are some ideas from our customers:
DIY projects - like custom woodwork cabinets, hutches, and other furniture projects.
Table covers - beveled glass will make an ordinary table cover look like an elegant accent piece.
Shelves - a beveled glass shelf is a step above an ordinary flat shelf.
Dining tables - or any table on a pedestal - is certain to look extra luxurious with a beveled edge.